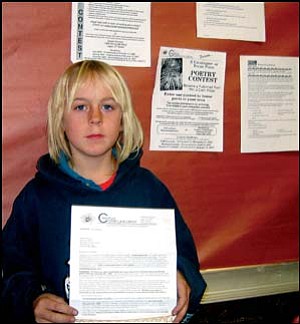 Originally Published: January 29, 2007 9:41 a.m.
KINGMAN - Patrick Lindsay began writing poetry about one year ago.
Last week, he learned one of his poems would appear in a national publication due to go to press about Feb. 6.
It will be 20-24 weeks before Patrick can expect to get a copy of the 2006 hardbound edition of "A Celebration of Young Poets," according to Joan Bailey, his sixth-grade language arts teacher at Kingman Middle School.
In early December, she sent Patrick's poem, "Christmas Time Ends," to Creative Communication in Logan, Utah.
The company sent letters received last week at KMS to Bailey and Patrick, advising them of his selection for inclusion in the young poets book being prepared for press.
"I spent 35-45 minutes composing the poem in class," Patrick said.
"I'm going to enter future writing contests, but right now I'm kind of psyched out about this."
"Christmas Time Ends" reads as follows:
Christmas is the best
Holly Jolly people, looking at me
Ringing bells all around
In the season oh Yes I am
Stir the hot cocoa
Time to time I wait for my presents
Moms and dads cooking dinner
Awesome presents all around the tree
Some people don't believe in Christmas, I do.
Turning ham in the oven
In the living room
opening presents
My family is the best
Ending Christmas is the worst.
Ending Christmas should not happen
Not enough time for Christmas to stay
Dumb people say Christmas should end
Surely, I think it shouldn't.
"Patrick's overall style has improved since the start of the school year," Bailey said. "He enjoys poetry and it seems to be his strong suit.
"We spent the start of the year reviewing our writing and poetry was the second big assignment for students.
"The difference between the first and second assignments for Patrick was huge."
Bailey's students had to present arguments for Halloween costumes and dancing in their first major assignment of the school year.
Patrick has received a certificate stating his poem is of high merit and was chosen for publication.
"Teachers can go online to judge the poems, and if Patrick finishes in the top 10, he'll get a cash prize," Bailey said.
There is $3,000 in prize money available to students with poems chosen for publication. Teachers may visit shop.poeticpower.com/register.