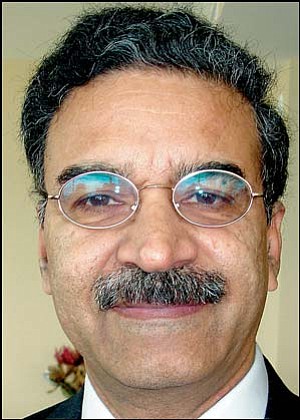 Originally Published: July 13, 2007 12:14 p.m.
KINGMAN - Dr. Azam Khan has touched countless lives in the 30 years he has practiced general surgery in Kingman.
Patients, past and present, will be able to thank Khan and join others in the medical community in honoring him during an invitation-only luncheon from 11 a.m. to 2 p.m. Friday in the cafeteria at Kingman Regional Medical Center.
Khan took his training at King Edward Medical College in Lahore, Pakistan. He did internships and residencies after coming to the United States.
"When I finished my training in New York, I taught there one year and then got married and wanted to raise a family in the West," he said.
"At that time, there was a need for a general surgeon in Kingman because two doctors were leaving, so I came here in May 1977 and interviewed at the hospital with administrator Don Logue and some others.
"They encouraged me, and by July 1, I was here and went to work July 13.
"I drove out from New York with my wife, who was pregnant with our first baby."
Khan established his practice in an office on Sycamore Avenue.
In 1994, he re-located it to the Arizona Institute of Medicine and Surgery building on Stockton Hill Road.
He has witnessed a good deal of expansion at KRMC in the past three decades and served terms as chief of staff during 1983, 1984 and 1985.
Medical staff has increased eight-fold to serve a four-fold population increase, Khan said.
"A general surgeon used to do orthopedics, vascular surgery, ear, nose and throat and neurology in addition to general surgery and endoscopy that I do today," he said.
Khan said he was the lone general surgeon in Kingman during 1983-1990 when Dr. Carol Newmyer arrived. There now are four general surgeons (Sahawneh and Tandon being the others) in the community.
Khan's grandfather in Pakistan was an herbal medicine doctor. He impressed upon his grandson the idea of going into general surgery, as he already could treat every disease known through herbal medicine.
The children of Khan are following in his footsteps. Uzma Khan, his eldest daughter, is an internal medicine and pediatric physician who recently completed a residency in New York and soon will move to Los Angeles.
Aqsa Khan, another daughter, graduated earlier this year from the University of Arizona Medical School and soon begins a residency at UCLA Medical Center.
He also has two sons. One is an undergraduate at the University of Arizona and the other attends Webb School in Claremont, Calif.
Kingman itself has changed greatly in 30 years.
"The town has expanded exponentially," he said.
"It has added new industries at the airport, in addition to bringing in service industries like Wal-Mart, Walgreens and other stores. There's more here in shopping now, but we can always use more."
Khan said he has no plans to retire at age 59, but he may cut back on his patient load. He was asked what he would change about the past 30 years if it were possible.
"That's a good question," he said. "Medicine has evolved in this country, and with the invention of the Internet, things are easier. Requirements for documentation need a lot of time from a physician."
"I wish there were some shortcuts, but in the environment of today, I guess it demands everything be documented properly."