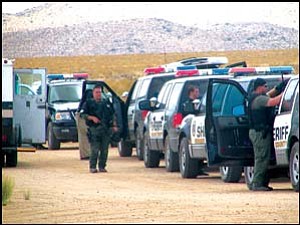 Originally Published: July 24, 2007 2 p.m.
Residents along Avendia Obergon lost two neighbors and had another severely injured in a shooting rampage Monday morning.
Stephen R. Luxton, 54, of Kingman allegedly shot Glen R. Cappello, 71, of Kingman in the face and killed his wife, Margaret Joan Cappello, 68. Luxton later shot and killed himself after a high-speed chase on I-40.
A spokesman for University Medical Center at Las Vegas reported that Glen Cappello was in critical condition early Monday evening.
Employees at the Crazy Horse Food and Feed in the 8700 block of Stockton Hill Road north of Kingman were the first to notify authorities of the shooting.
Employee Francis Delgado said she was sweeping outside of the store around 9:30 a.m. when Glen Cappello pulled into the parking lot, waved her to his truck and told her to call 911. Delgado said she had a coworker call Inland Fire Department and 911 before she turned to help Cappello out of his truck. Inland Valley Fire Department is located next door to the Crazy Horse and responded immediately.
Inland Assistant Chief Erritte Hamilton confirmed he treated Cappello for a gunshot wound to the face and hand. Hamilton said while he was treating Cappello, Cappello stated that "Steve" had shot both him and his wife and he believed that his wife was dead.
Cappello was flown to University Medical Center for treatment. An ambulance was called to respond to the Cappello residence located on Avenida Obergon. Hamilton said when the fire department and the ambulance arrived at the home, Sheriff's Deputies were already at the location. The ambulance and fire department crews were told they were not needed.
Hamilton said Luxton was a caretaker at the Cappello residence for many years.
Cappello told Hamilton that the shooting was unprovoked and a total surprise.
"Most of us up here know the gentleman, the shooter, and it's definitely out of character for him," Hamilton said. "That was definitely a surprise to everyone."
Neighbor Denise Bensusan said she ran into Luxton two weekends ago in the Crazy Horse.
"I asked him [Luxton] if Glen was home from Mexico and he said 'yeah.' I said, 'well could you have him [Cappello] call me?' And he [Luxton] said, 'Yeah, if I don't shoot him first,'" she said.
Bensusan said her son, Joshua, had reminded her of the incident in the Crazy Horse.
According to a Mohave County Sheriff's Office press release, deputies responded to a report of a shooting at 9:54 a.m. in the 9300 block of Avenida Obergon. Deputies located Glen Cappello at the Crazy Horse.
Cappello told deputies that his wife had been shot and was at the residence. He also told them that Luxton lived on the property and had fled the scene.
According to MCSO, the Sheriff's Tactical Operations Unit responded to the scene and found Margaret dead. The office believes she died of a gunshot wound. MCSO along with Kingman Ranger, Department of Public Safety immediately started an air and ground search for Luxton in the area.
Around 12:30 p.m., deputies received information that Luxton had a handgun and was driving a Pontiac Trans AM southbound on Bank Street from Northern Avenue.
MCSO broadcast an attempt to locate bulletin to all local law enforcement.
Sgt. Rusty Cooper of the Kingman Police Department confirmed that the department received an attempt to locate bulletin from the Mohave County Sheriff's Office just before 1 p.m. for a black Trans Am or Camero, and that the driver, Luxton, was a possible suspect in a homicide.
KPD officers located the vehicle at around 1:20 p.m. near Andy Devine Avenue and I-40.
The car turned eastbound onto I-40 and officers attempted a traffic stop. The driver refused to stop and drove off at a high rate of speed.
Several officers from MCSO, the Arizona Department of Public Safety and a Kingman Ranger helicopter joined KPD.
Speeds in the chase reached more than 100 mph at one point, Cooper said, before the chase was slowed by rain.
Around mile marker 75.5, DPS laid down a series of spike strips to stop the vehicle. Cooper said the vehicle rolled to a stop near mile marker 77.
There was a brief standoff, Cooper said, when Luxton refused to show his hands or exit the vehicle. Luxton then shot himself with a handgun.
The MCSO confirmed that Luxton was dead at the scene and had apparently committed suicide.
According to the MCSO, KPD is investigating the suicide and autopsy results are pending.