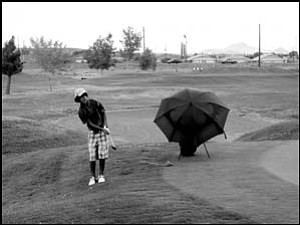 Originally Published: July 27, 2007 2:43 p.m.
KINGMAN - Home is supposed to be one of life's more comforting four-letter words. Golf, on the other hand, invokes an array of emotions.
While some of Kingman's junior golfers did not find the familiar confines of Cerbat Cliffs Golf Course to be so friendly on Thursday, others made the most of their home-course knowledge and took their spot on top of the leaderboard.
Locals Kenny Duford and Andrew Carlin were among those with at least a share of the lead in their respective divisions after Thursday's first round of the Kingman City Junior Championship, hosted by the Junior Golf Association of Arizona.
Duford's 77 was the low round in the Boys 13-14 division, one better than Cole Sajonia and Daeyeob Chae. Unable to make any birdies on Thursday, Duford said he's hoping for better results from his putter in today's final round.
"I missed birdie putts at (holes) 3, 9 and 15, but I was happy to make par on 18," Duford said. "I've played this course a million times, but there will be some pressure tomorrow being in the lead."
Carlin was not as fortunate as Duford on 18, lipping out a par putt that would have given him the outright lead. Still, he made four birdies and four bogeys for an even-par 71 score to tie with Blake Brown for the Boys Championship division lead.
Kingman's Sean Williams, Tanner Theel and Aaron Pitts will be chasing Tyler Wooldridge and Eric Briggs today in the Boys 15-18 division. The two leaders are at 73 after the first day.
Using the words "weird" and awkward" to describe his morning, Williams opened with a 1-under 35 on the front nine, but started the back side with a bogey on No. 10 and added three double bogeys to finish three off the pace at 76. Theel is at 84 and Pitts shot an 86.
"You can't have a great day every day, and if I have a bad day and shoot 76 that's fine with me," Williams said.
Three Kingman girls are battling for the Girls 10-Under division title. Haley Muswicek (63) holds the lead on Bekah Van Kirk (69) and Mariah Sammeli (79) after nine holes of play.
Kingman's fourth female participant, Amanda Deering is nine shots behind leader Jacquie LeMarr in the Girls 13-14 division after shooting an 84. Deering's only birdie of the day came on the par-3 eighth hole, but she played the final four holes 1-over par to build some momentum heading into her final 18 holes.
"I could have had done better. Today was just a bad day," she said.
Not lacking in confidence about her abilities to score well on her home course, Deering needed only one word when asked about her game plan.
"Win," she said.