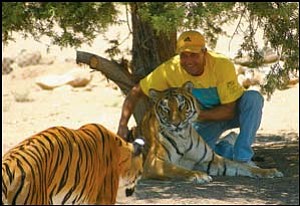 Originally Published: June 1, 2007 9 p.m.
KINGMAN - Starting this weekend, Mohave County residents can experience the call of the wild in their own backyard at Keepers of the Wild's pre-opening, which continues through June 30.
Residents who show a Mohave County ID receive a reduced entry price of $12 for adults and $8 for children 13 and under. Keepers of the Wild Founder and Director Jonathan Kraft said that the special price is to thank the residents of Mohave County for all the generosity they have shown the non-profit animal park and sanctuary, which is located along Route 66 about 20 miles north of Kingman.
Keepers of the Wild was originally located on U.S. 93 between Kingman and Las Vegas but recently moved to a new 175-acre property near Valentine. The animals now roam in naturalistic enclosures that provide trees, vegetation and shade. The sanctuary is full of animals that have been rescued from abusive or neglectful situations and includes lions, tigers, wolves, birds and 12 monkeys recently rescued from the Phoenix area.
The pre-opening features guided tours every hour on the hour starting at 10 a.m. and ending with a 4 p.m. tour. Hours are 9:30 a.m. to 5 p.m. Wednesday through Sunday.
Keepers is closed on Mondays and Tuesdays. Residents are encouraged to bring comfortable walking shoes. There is shade, a snack bar and handicapped parking.
Construction continues at Keepers, and a gift store will soon open. The road and parking area are complete.
Keepers of the Wild is looking for volunteers and sponsors. For more information, call 769-1800 or visit their Web site at www.keepersofthewild.org.