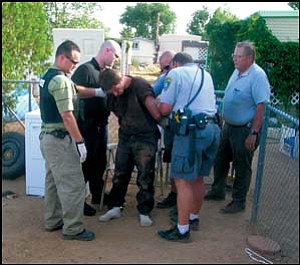 Originally Published: June 19, 2007 9:27 p.m.
KINGMAN - The remaining Kingman area resident who was still on the loose after escaping from Mohave County Jail Annex on June 9 was caught Friday in Kingman.
The investigation into the death of the second escapee, meanwhile, has been wrapped up. A weapon malfunction may have prevented deputies in that incident from being shot.
Mohave County Sheriff's detectives and deputies, along with Kingman Police Department detectives, apprehended Raymond Joseph Coleman, 40. He was wanted on felony warrants for escape and aggravated assault on a corrections officer as well as misconduct involving a weapon and resisting arrest, according to MCSO spokeswoman Trish Carter.
At about 4:50 p.m., law enforcement acted on a tip regarding the whereabouts of Coleman at a residence in the 3900 block of Shaeffer Avenue. Detectives got consent from the landlord to search multiple residences on two neighboring lots.
The landlord advised the detectives there were squatters in the residences. While searching the residences, detectives and deputies contacted Rebecca Leona Shires, 49, Amy Leona Kanthack, 28, and Adam Lee Kanthack, 27, all of Kingman.
During conversations with Shires, Amy and Adam, they each denied any knowledge of seeing Coleman and said that they would not allow him to stay there.
Upon searching the third residence, a back house, deputies saw Coleman run to a back room.
As deputies entered the room, Coleman reportedly lunged toward them, and after a brief scuffle, a Taser was eventually used to help subdue him. Deputies located a sawed off shotgun in the room where Coleman was apprehended.
River Medical responded to the scene. Coleman was treated and released by River Medical.
Shires and Amy and Adam Kanthack were each arrested for hindering prosecution, a felony, and were taken into custody without incident.
All four were transported and booked into the Mohave County Jail. Two children were released to a relative of Kanthack.
Coleman escaped with Steven Joseph Wusstig, 34, after allegedly assaulting a corrections officer. They were seen leaving the area in a white passenger car that later was found.
Coleman was incarcerated in October on a failure to appear warrant stemming from burglary charges.
Wusstig was facing a probation violation charge from a 2005 case where he pleaded guilty to transporting more than two pounds of marijuana for sale. He was also facing two theft charges, two theft of a means of transportation charges, one unlawful flight from a pursuing law enforcement vehicle charge, and one possession of methamphetamine drug paraphernalia charge in three separate cases.
Wusstig was shot and killed in Lake Havasu City Tuesday by Mohave County Sheriff's deputies who were following up on a lead as to the whereabouts of the escaped inmate. Wusstig allegedly opened fire on deputies and one deputy returned fire.
The Bullhead City Police Department investigated the officer-involved shooting.
According to the autopsy conducted Thursday, Wusstig suffered seven bullet wounds, three of which were considered fatal.
After examining evidence and talking with several witnesses, including an off-duty Lake Havasu City Police officer, investigators determined that around 4:45 p.m., Sgt. Doug Schuster, an 18-year veteran of the MCSO, and Deputy Quint Oller, who has been with the department 2-1/2 years, went to a residence in the 2500 block of Huntington Drive on the north side of Lake Havasu City searching for Wusstig and Coleman.
While searching along a dirt utility road, Wusstig was seen lying behind bushes and began firing a .22-caliber target pistol at Schuster. Schuster fired eight shots in return as he was backing up, striking Wusstig seven times. The three fatal wounds struck the suspect in the chest.
Schuster reported hearing two "pops" and a bullet pass by his head, and then seeing a foot move in the bushes about 20 feet in front of him before he opened fire.
Eight .40-caliber casings, matching the caliber of Schuster's gun, were found at the scene by investigators.
The deputies took cover for several minutes, believing the second escape suspect, Coleman, might also be armed and in the vicinity, before approaching Wusstig, who apparently died instantly.
According to a news release from BHCPD, the .22-caliber target pistol had apparently jammed after the second shot and was found lying next to the suspect. Two .22-caliber casings, matching the gun that had been reported stolen in Kingman, were also found at the scene by investigators.
More like this story