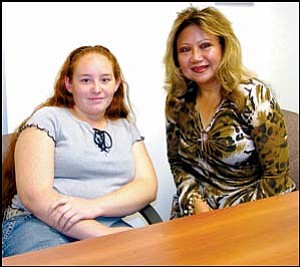 Originally Published: June 20, 2007 9 p.m.
KINGMAN - Despite being told for years that she had a learning disability and doubting her abilities in the workforce, Patricia "CiCi" Canfield has become a certified nursing assistant with a little help from a caring COYOTE.
Canfield came to the Mohave County One-Stop Center as a high school graduate seeking guidance after losing her job as a babysitter.
Her mom suggested she come into the center for guidance of where to go next.
"I thought it would be a good idea," Canfield said. "I didn't really know how to fill out a job application as I hadn't done that before."
Canfield's records showed that she had a mild form of dyslexia, Coalition Youth Team program representative and Canfield's mentor Lynn Steiger said. Her mom expressed worry about getting her into the program. Steiger took it as a challenge.
Since the COYOTE program's inception, there have been many success stories, but this one is unique because of how far Canfield came so fast, Steiger said.
"She went through our assessments," she said, "and the one thing that she rated very high in was the ability to understand directions. Having that strength, I knew what she needed was some one-on-one workshop training. We really focused on motivation and interaction. CiCi started comprehending what the workshop was all about.
"I saw her breaking through," Steiger said. "When people start believing in themselves, they find skills they didn't know they had. CiCi stared finding things she did well. She kept on-task and completed projects."
Early on, Canfield expressed an interest in pursuing a career in nursing. She said she wanted to work with babies.
Assessments showed that she needed basic education courses as well as college, Steiger said. Two choices were available for Canfield to progress toward her goal: to attend CNA classes at Mohave Community College or at the Lingenfelter Center. Grant money was available for both, and they chose the center because of the smaller class sizes and on-the-job training, Steiger said.
"CiCi was very determined. She has a natural ability to care for elderly and disabled people. And we need good caregivers," said Lingenfelter Center Nurse Administrator Julie Mitchell.
After completing the required course work and graduating, Canfield took the Arizona Board of Nursing written and skills test, and passed.
"We worked with CiCi so she would be capable of handling the academics," Steiger said. "She didn't pass the first time, and she was devastated. We put our efforts together and worked with her and provided additional tutoring at the One-Stop Skills Center. We encouraged her and she passed the tests and the state boards to become a CAN. Her supervisor at the Lingenfelter Center, Cindy Grenier, made a comment that she wouldn't be surprised if CiCi became a registered nurse some day, and that's just what she wants to do.
"I think coaching helps young people," Steiger said. "It is really nice to watch a young person succeed. I try to help them learn skills and also find reasons to believe in themselves. When they believe in themselves, they will go far in life."
Many people who come through the doors of the COYOTE program or the One-Stop Center have low-self esteem holding them back, explained Program Manager Jen Miles, program manager. Sometimes just working one on one with those individuals can work wonders.
For more information, call Steiger at 753-0723, ext. 4436. "We have employment assistance available to people of all ages," she said, "and CiCi is a great example of how these programs lead to success."