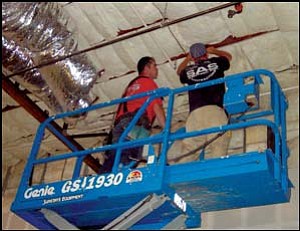 Originally Published: June 21, 2007 9 p.m.
KINGMAN - Welders, electricians and other workmen are busy preparing the new Kingman Academy of Learning Primary School to open with the charter district's three other schools Aug. 20.
Completion of the $4.3 million project will mean all four campuses and the district office are within the same square block around Centennial Park.
Modular Technologies of Phoenix is general contractor for the project.
Superintendent Dan Woods said Wednesday construction is slightly behind schedule.
"However, they're very good at making up time," said Susan Chan, district administrator.
"They've promised us the building will be ready between the middle and end of July."
The primary school will have KAOL High School and KAOL Intermediate School adjacent to it. A new district office also is under construction next to the high school and should be ready for occupancy two to three weeks after the schools open, Chan said.
The current district office on Beverly Avenue then will be utilized partly by the district's transportation department and partly by the adjacent middle school.
The primary school will encompass 28,285 square feet under roof.
It will have 17 classrooms, all measuring 30- by 30-feet, Chan said.
Two of the classrooms are designated for physical, occupational and speech therapy students.
Upon entering the front door, parents, students or visitors will find a reception area to the left. Five office-type spaces are behind it. Principal Trudi Bradley will occupy the largest.
One space will be used for file storage, another to hold teacher supplies. Another will be available to the district psychologist for student testing.
A workroom and meeting room are located on the right side as people enter the front door. In between them are men's and women's staff rest rooms.
Preschool and kindergarten children will have their classrooms in the first hallway. A connecting hall leads to the second hallway, where first- and second-grade classrooms are located.
A combination gymnasium/cafeteria is centrally located and may be entered from hallways on either side. As in the past, students may bring their own lunches or buy one from vendors.
A playground area on the west side of the school will be divided for pre-schoolers on one side and K-2 children on the other, Chan said.
The district has operated its primary school inside First Southern Baptist Church on Hualapai Mountain Road under a lease agreement that has one year to go. Chan said a buyout agreement on the final year of the lease is under discussion with church officials.
The new school will accommodate about 340 students from pre-school through second grade. It will employ 33 staff members, including teachers, aides, principal and front office staff.