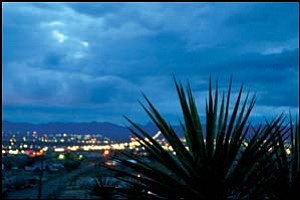 Originally Published: June 29, 2007 5:29 p.m.
KINGMAN - It's official: The qualified registered voters will decide whether Golden Valley will become the fourth incorporated community in Mohave County.
The county Board of Supervisors on June 18 set Sept. 11 for an election on the issue, but not without protest from some Golden Valley residents.
Those opposed to incorporation took the floor first. Three of the 10 who spoke against allowing the issue to go to ballot said they live outside the proposed incorporation area. As such, they will not be permitted to vote on the matter.
If Golden Valley becomes incorporated, the resulting town will encompass about 71 square miles of land not owned by the state or the Bureau of Land Management. The proposed boundaries are roughly from Shinarump Drive on the south to Carmen Road on the north, and from Egar Road on the west to Adobe Road on the east. A map of the area is available at the Mohave County Elections Office.
Most of the protesters cited Arizona Revised Statute 9-101-F, which states incorporated areas should not include vast amounts of uninhabited land.
Golden Valley resident Susan Bayer said the Mohave County Planning and Zoning staff had told her that as much as 70 percent of the 54,000 acres in the proposed incorporation borders was uninhabited, although most of that acreage has been plotted and subdivided for future residential and commercial development.
Gordon Hoover, treasurer for Incorporate Golden Valley, the committee that collected signatures for the petition, said ARS 9-101-F has created a lot of confusion since its passage more than 60 years ago.
He said the statute was aimed at preventing two widely separated small communities from joining forces for the sole purpose of having enough population to create a legally recognized municipality. He pointed out that such is not the case in Golden Valley.
Supervisor Tom Sockwell asked County Attorney Bill Ekstrom about the ARS urban-area requirement. Ekstrom said the statute did not clearly define what an urban or rural area was, and the issue never has been successfully litigated.
It was up to the supervisors, he said, to decide in this case whether the area was urban enough.
Water issues and the possibility of rising property and sales taxes also were common concerns.
Golden Valley resident Robert Jackson said he was concerned that the area might not be able to raise enough tax revenue to support city services. He said a representative from the League of Arizona Cities and Towns told him the area would need $1.8 million to operate as a city if it had a population of 5,000.
Jackson showed supervisors a chart he had created of an estimated cost of road equipment and police protection. The cost, he said, would be close to $1.9 million, not including building a city hall, police station and other necessary offices. The total could come to $2.8 million, he said.
"I can't see that a city could operate with a deficit like that," he said.
Virgil Heath, who lives outside the area proposed for incorporation, said he opposes the change because it would affect all Golden Valley residents.
"So we are concerned about our water problems, our fire protection problems and every other problem that a city would impose upon people," he said. "These people are a bunch of dreamers, schemers and want-to-be politicians who want to get state money so they can operate it because they know they don't have enough tax base out there to support a city. So they're looking everywhere they can to get the money to do it."
Heath said the petition should never have been accepted by the Elections Department because the proposed incorporation district did not meet Arizona Revised Statutes requirements.
"They know but they don't care," he said. "These people are out for themselves. They're trying to scare this Board. They want you to break the law."
Board Chairman Pete Byers said it was not up to the Election Department to decide if the proposed area met the ARS requirements. It was their duty to make sure all the signatures on the petition were valid and that there were enough signatures to call an election on the issue.
Resident Verna Schwab, a Golden Valley Realtor and resident, said the proposed incorporation area has two water districts, and she asked who will buy them and continue to provide that service.
Hilda McDonald said she was caught in a catch-22, living on a fixed income and unable to afford any increase in taxes that might accompany the incorporation. At the same time, she wouldn't be able to move out of the area because she wouldn't be able to sell her home due to the same taxes.
McDonald's husband, Jim, echoed her concerns and Schwab's, saying the two water companies in the area probably would merge, and property owners would end up paying for that merger.
He said when he moved to the area, it was rural and he liked it that way. He also said registered voters who signed the petitions were misled, and speculated that many of the registered voters who signed the petition were renters who wouldn't have to pay property taxes.
"Most importantly, this area plain and simple cannot afford to become a city," he said. "It appears others in the valley do not want to make this valley an over-developed, over-crowded city with lots of debts."
Nona White said she and her late husband moved to Golden Valley because it was rural.
"I don't think a city is a good idea," she said.
Nona Streiber, who lives outside the area proposed for incorporation, said she feared rising taxes would force her out of her home if the incorporation were approved.
"It's unfair to the long-time residents," she said.
Robert Holsinger, another protester who lives outside of the proposed area, said he was afraid that if voters approve incorporation his area might be annexed in the future.
Ronnie Case questioned the population figures the IGV was using, and he said he was told his taxes would not go up if the voters approved incorporating the area. But the money has to come from somewhere, he said.
Byers said the amount of money needed to run a city was not something the Board could consider when making its decision whether to allow the issue to go to ballot this fall.
He also said Golden Valley residents now pay more in property taxes than Kingman residents pay, due to the fire district and improvement districts. And they probably pay more now than they would if the area was incorporated, he said.
He said sales tax in the incorporated area likely would go up, but pointed out that Golden Valley residents now have to drive to Kingman or Bullhead City to do their shopping and they pay sales taxes to those two cities.
And Byers suggested residents opposed to the incorporation follow the IGV pro-incorporation committee's lead: Form a group of their own to spread their message.
Hoover said a lot of misinformation is floating around out in the public, and that the IGV had met all the ARS requirements for incorporation of Golden Valley.
He pointed to figures that show that while the proposed area would not be the largest city population-wise in the state, it also would not be the smallest. Nor would it be the least-densely populated.
Hoover said he favored letting the people who would be affected by incorporation make that important decision.
"This is a democracy. People should be able to vote. You need to get out and vote and you need to get other people to vote," Hoover said.
Ekstrom said the county should not stand in the way of allowing Golden Valley residents to determine whether to incorporate.
"The rule is not for the Board to decide the wisdom of this, whether it's a good idea or whether it's best for the people," Ekstrom said. "That's a unique thing that's given to the people to decide."
Supervisor Buster Johnson then made the motion to approve setting Sept. 11 as the date for the election. Byers seconded the motion, and it passed by unanimous vote.
After leaving the meeting, IGV member Dennis Emery said he wanted to make it clear to the voters that if Golden Valley is incorporated and if he were to be appointed to the interim city council until a council were voted into place, he would serve without pay.
"This isn't about making money or padding anyone's wallet," he said. "It's about serving our community and doing what's best for Golden Valley."
IGV Chairman Henry Peairs Jr. said, "It's been an interesting six months," to which Hoover replied, "Not as interesting as the next six will be."
As the pro- and anti-incorporation factions met in the parking lot after the meeting, Heath congratulated Peairs on the IGV gaining the supervisors' approval to take the issue before the voters.
"You spread the (expletive deleted) as thick as I do," Heath said, adding, "I'll see you in court."
Peairs said he and the IGV were prepared to fight the issue in court, if necessary, but hoped it would not come to that.
"But if it does, we'll win that one, too," Peairs said.
****
Donna Newman, Managing Editor/Reporter, contributed to this story.