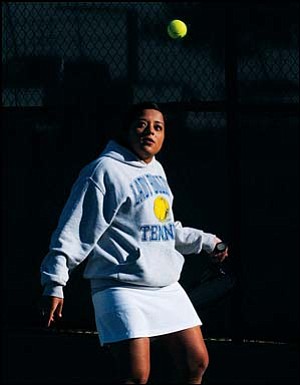 Originally Published: March 5, 2007 10:33 a.m.
KINGMAN - The Kingman girls tennis team found two rays of light at the end of its lineups on Thursday facing Sunrise Mountain.
The Bulldogs won their first singles and doubles matches of the season in a 7-2 loss to the Mustangs at Centennial Park.
"These girls are still having a good time, and it was nice to see those two wins today instead of getting shut out," KHS coach Dave Laughter said. "The girls who won today are going to have a big confidence boost when we play next week, and if we can get one of these next three matches it would be an awesome confidence booster for the whole team."
KHS No. 6 single Katelyn Jacobson recovered from dropping her first set to dominate her opponent in a 3-6, 6-0, 6-2 win.
"Consistency," Laughter said of Jacobson's play. "Her volleys have gotten a lot better, and she wasn't afraid to go to the net today."
In the No. 3 doubles match, Trena Mikashus and Chelsea Pope battled their way to a 10-8 win. Mikashus also had a strong showing in her No. 4 singles match, but lost in straight sets.
"Trena was banging the nets today, which was awesome," the coach said. "She lost her match, but there's so much improvement from her since last year, and it makes me happy to see girls not afraid to be aggressive."
Kingman (0-3) faces Centennial and Westview next week before beginning region play on Friday against Deer Valley.