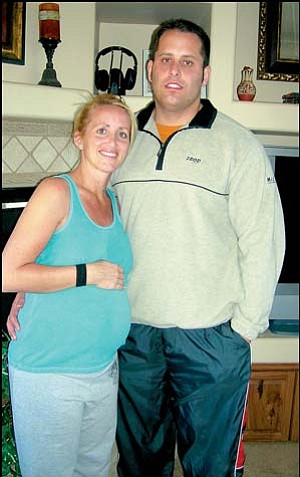 Originally Published: March 7, 2007 11:17 a.m.
LAKE HAVASU CITY - Bryan and Jenny Masche may begin wishing they had multiple arms and legs come the first week of June, when they expect the arrival of sextuplets.
"It's overwhelming to get this information," Bryan said Friday. "It's stressful, but we also know God has blessed us."
Jenny, 32, was a physician's assistant at Kingman Regional Medical Center before leaving her job after learning she was pregnant. Bryan, 28, is a pharmaceutical sales representative for Wyeth.
Jenny had suffered two previous miscarriages when she and Bryan went to Nevada Fertility CARES Wellness Center in Las Vegas last fall. Testing indicated both were in good health, so the miscarriages were deemed a quirk of fate.
They tried artificial insemination, and Jenny began feeling nauseated 10 days later. Clinic doctors confirmed her pregnancy Dec. 4, and an ultrasound done Dec. 29 determined she was carrying six fetuses.
"I became hysterical at that point and started crying," Jenny said.
The couple was told about "selective reduction" in which some of the fetuses can be aborted after 10-12 weeks.
"It gives the remaining babies a better chance for survival," Jenny said. "But for every one you reduce you increase the risk of miscarriage for the whole pregnancy.
"We've heard through the media about other couples that had sextuplets and successfully delivered healthy multiples. If God wants us to lose one or more of them naturally, we can accept it, but we will not do selective reduction."
A grandfather on his side of the family and a grandfather on Jenny's side both have a twin, so there is a precedent for multiples in both families, Bryan said.
The couple currently lives in a 3-bedroom, 2-bath home in Lake Havasu. It is yet to be decided if they will have to move into a larger house or make extensive renovations to their present home once the six babies arrive, Bryan said.
Jenny plans to move in with an aunt and uncle in Phoenix this week and remain with them for the duration of her pregnancy. She will be on complete bed rest within the next two weeks until delivering the babies at Banner Good Samaritan Medical Center in Phoenix.
She also will undergo another ultrasound this week and expects to learn the genders of the babies.
"I would like a balance," Jenny said. "My husband wants six boys. Any time someone mentions six girls he gets upset because he's afraid of raising girls."
Jenny said she had gained 11 pounds as of Feb. 23. Her doctor wants her to put on 75-100 pounds and consume 5,000 calories per day.
"If you're sick with nausea and your stomach is growing, food does not look good," she said. "I spend my days thinking about what to eat now and can I hold it down.
"By putting on more fat, the babies will feed off it and be healthier."
She has passed the 16-week point of her pregnancy. The babies can survive at 24 weeks, but her doctor wants her to carry them until at least 28 weeks.
After 28 weeks, the babies have a good chance to survive, although they still would remain hospitalized for 6-8 weeks, Jenny said.
She feels tired much of the time and is constantly battling sinus problems associated with the pregnancy, Jenny said. However, headaches and vomiting that plagued her earlier have largely disappeared.
She was asked what she and Bryan would need after the multiple births.
"It's so hard to fathom the logistics of this because our salary was cut in half from my leaving the hospital," Jenny said. "The thought of cutting your salary by half and then increasing your family by six is overwhelming.
"Diapers alone will run $1,000 per month. They'll also need 50-60 ounces of formula daily among them and that's another big expense."