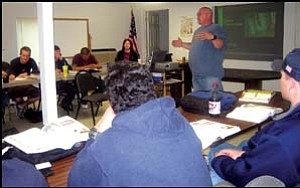 Originally Published: March 8, 2007 5:18 p.m.
GOLDEN VALLEY - For every little boy or girl who has ever dreamed of growing up to be a firefighter, Golden Valley Fire District's EMS/firefighter classes can turn daydreams into a viable and exciting adult career.
The district's pilot program started last May with a fire operations course, taught by Capt. Brian Harms. The most current classes are being taught by Russ Paronto through Mohave Community College. By May, the program will be ready to turn out its first group of state- and nationally certified firefighter/EMTs.
"Russ is a college instructor who started his career as a volunteer right here at Golden Valley Fire Department," said Rudy Barboa, GVFD division chief. "We helped Russ and how he's helping us. It's really nice that it has worked out that way."
Now, 18 years later, Paronto and GVFD volunteer Roberta Smith are teaching and helping rookies to become professionals.
Barboa said the course serves a dual purpose: It provides an opportunity for those interested in pursuing a career in firefighting and EMS, and at the same time brings volunteers to the department.
"We ask the students to volunteer with the department while they're going through the classes," he said. "They're getting classroom training and on-the-job, practical, hands-on experience at the same time. We pay them for the calls they respond to, and we're putting them through the classes at the same time.
"And, they get 8 hours of credit toward a college degree. It's really a win-win for all of us. We're helping them and they're helping the department and the community. When they've gone through our year-long program, they can get national and state certification and get a job anywhere in Arizona. Of course, we really hope they decide to stay with us."
Jerry Stein, director of emergency medical services courses for all four Mohave Community College campuses, said the course involves 156 hours of classroom time, 12 hours of vehicular experience and training, and 12 hours of hands-on emergency room training, for a total of 180 hours.
"In addition to the classroom and vehicle time, students get 12 hours in the ER under the supervision of physicians and trainers," Stein said. "They're expected to put their level of training to use. They provide the services they've covered in class."
Once students complete the 180-hour course, they test for national and state certification.
"There are practical and written components to the testing, and they're expected to satisfactorily participate in the vehicular and ER training," Stein said. "The written portion is computerized. If a student answers the questions well, they have to answer fewer questions. If a student struggles with a portion of the test, they have to answer more questions to determine their level of knowledge. It gives students a better chance to show what they have learned."
Testing is done now in Flagstaff, Phoenix and Las Vegas. Mohave County College is in the process of trying to become a national and state certification testing center.
"With the computerized testing, there's the possibility of getting the test results the next day and having the certification in the graduate's hands within a week, instead of them having to wait a month," Stein said.
For more information about the course, call Barboa at 565-3479.