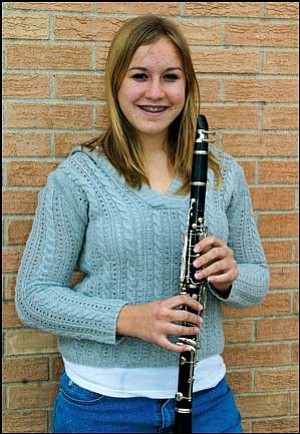 Originally Published: March 8, 2007 7 p.m.
KINGMAN - Desirae Williamson had an inkling something was up when her mother and father were the only parents present in December when Julie Gragg summoned members of the Kingman Middle School Band to the school's library.
KMS music teacher Gragg informed everyone that Desirae had been named to the 2007 Arizona Junior High All-State Honor Band. Desirae's parents had learned about the honor about a week earlier from Gragg, but remained mum around her until the announcement at school.
"I'm proud and surprised," Desirae said Tuesday. "I was wondering why Mom and Dad were the only parents sitting there."
Gragg submitted an application for Desirae in mid-November. It included a resume of her musical accomplishments, two of which were making the regional honor band two years in succession and gaining a "superior" rating for solo and ensemble performances.
Desirae took up the clarinet four years ago while one of Gragg's fifth-grade students at Hualapai Elementary School. She said she has practiced about 20 minutes daily over the years.
"I thought about taking up the flute, the instrument my sister (Amber) played," Desirae said. "But the clarinet sounded prettier to me.
"The clarinet is the harder of the two as it has more notes to learn. I would say the flute is harder to get the notes out of because it takes more air."
Desirae travels March 17 to the Higley Center for the Performing Arts in Gilbert to perform with the Arizona Junior High All-State Honor Band in a concert scheduled for 5 p.m.
The Arizona Music Educators Association sponsors the all-state honor band.
Gragg has taught music for 17 years in Kingman. She said Desirae is the first student to gain the honor in those years.
"Desirae has an innate ability coupled with a true sense of what music is about," Gragg said. "She has worked to increase her skills, and she possesses a quality that makes her a true musician."
Desirae said she plans to continue playing the clarinet into high school and beyond. She is uncertain about a career and college plans.