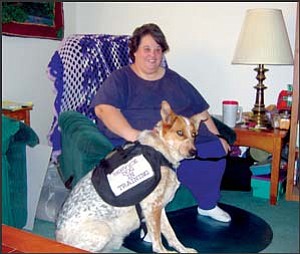 Originally Published: May 1, 2007 9 p.m.
KINGMAN - Stacy Gerhow lost her sight in 1999 to pseudotumor celebri, an affliction that causes excess fluid to collect in her brain and left her blind in the left eye and with only a pinhead of foggy vision in her right eye.
She relies on Wiley, her 2-year-old male Queensland heeler and Australian shepherd mix service dog to help her get around, and understandably, becomes annoyed at anyone in the public transportation sector wanting to charge extra to carry her canine.
Gerhow had an unpleasant experience April 20 after shopping at Wal-Mart and leaving the store with three bags of groceries and two gallons of milk. She used her cell phone to call Kingman Cab Co. for a ride home.
"I'd had no trouble in the past with the company," Gerhow said. "But this time, a driver named Bill picked up the call.
"When I told him I had groceries and my service dog, he said if you want me to pick you up, you'll have to pay an extra $5 for the dog. I asked if he was joking and he said no.
"I told him that's against the law, and he said no it isn't. I cited the Americans with Disabilities Act, and he said he didn't care, I would have to pay an extra $5 and continued arguing with me like I didn't know what I was talking about."
After about five minutes of arguing with Bill, Gerhow called the company office and spoke to someone else, whose name she could not recall. It may have been another driver, and he too insisted drivers can charge extra for carrying a dog.
She estimated that back-and-forth discussion continued for another five minutes before he agreed to waive the $5 fee. A female driver with whom Gerhow has never had a problem soon arrived and drove her and Wiley home with their packages for the standard fare.
Gerhow said she contacted the Daily Miner and asked for a story about her experience in hopes all drivers of public transportation will get the message that the ADA stipulates they may not charge extra for carrying a service dog.
She could have complained to the U.S. Department of Justice or other agencies, and they would immediately get after the company, but she does not want to cause the problems that would follow from pursuing that avenue.
Ronald Martin, a supervisor with Kingman Cab, was contacted about the incident. He said drivers have the option of charging $5 for carrying a dog that may shed hair on a seat, but not service animals. He referred further questions to company owner Jason Arnold.
Joanne Ritter, director of marketing and communications with Guide Dogs for the Blind in San Rafael, Calif., was contacted.
"A service dog is defined as an animal specifically trained to assist someone with a disability, and under the ADA, people using guide and service dogs are allowed on public transportation without being charged an extra fee," Ritter said.
Cynthia Magnuson with the Office of Public Affairs of the U.S. Department of Justice responded via e-mail to an inquiry from the Miner.
In it, she states one of the most frequently asked questions is, "I operate a private taxicab and don't want animals in my taxi; they smell, shed hair and sometimes have accidents. Am I violating the ADA if I refuse to pick up someone with a service animal?"
Her response was, "Yes. Taxicab companies may not refuse to provide service to individuals with disabilities. Private taxicab companies are also prohibited from charging higher fares or fees for transporting individuals with disabilities and their service animals than they charge to other persons for the same or equivalent service."
Arnold returned a call Friday. He said part of the problem Gerhow encountered stems from the fact his workers are contracted drivers and not company employees.
"I have talked with the driver about this matter," Arnold said. "A contracted driver does have discretion to apply an extra charge, and if he or she doesn't understand they can't charge for carrying service animals, I have instructed them to bill that charge to me."
Arnold later faxed a note to the Miner in which he states the incident is related to recent driver politics and stress arising from an estimated 30 percent drop in revenues in recent months.
All Gerhow knows is she requires taxi transport to her door with groceries and a dog in tow. Riding a bus under those conditions would not be practical.