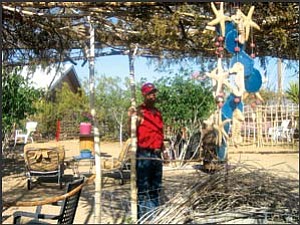 Originally Published: May 3, 2007 11:13 a.m.
GOLDEN VALLEY - A garden grows in it.
The myth that nothing grows in Golden Valley is being shattered by many residents who have beautiful and flourishing "secret gardens."
For the last seven years, Mel T. Stauffer, a heavy-equipment operator by trade, constant gardener and major recycler, has been designing and growing such a garden on his 2.5 acres overlooking the Sacramento Wash on North Estrella Road.
"I intend for this to become a permanent garden tribute to the beauty of Golden Valley," Stauffer said.
"As the years change the face of the area - land all scraped and houses and commercial everywhere - and little is left of the original look, its rural ambience, long valley views and its clear night sky will still be able to be seen, enjoyed and remembered in this garden."
The Overlook Gardens at the Sacramento Wash, now seven years in the making, looks to become a permaculture center. Permaculture is the art and science of designing human beings' place in the environment.
Permaculture design teaches people to understand and mirror the patterns found in healthy natural environments, so they can build profitable, productive, sustainable, cultivated ecosystems that include people and have the diversity, stability and resilience of natural ecosystems.
The center will offer education and hands-on lessons in landscaping, food production, harvesting and preservation, rainwater harvesting and sustainable community planning.
Classes will begin this coming fall, taught by landscape architect
Barnabus Kane and Andrew Millison, both from Prescott. Millison spent two years managing the organic farm at Arcosanti and teaches organic horticulture.
For more information on the instructors, visit their Web sites at www.harvestingrainwater.com/resources/firmsdesigners-specializing-in-dryland-water-harvesting-permaculture-design-or-integrated-design/ and perm culture specialist, and www.millisonecological.com/html/Bio.html.
"Growing your own food is a perfect way to keep it real," said Kane. At 61 years old, he attributes his health to growing his own food as much as possible.
"Getting in the dirt and doing for one's self, being self-sufficient and knowing you are eating as healthy and cost effectively as possible; it's the old Victory Garden concept from the 2nd World War, only updated," Stauffer said.
"It's also a tribute to my grandfather, Martine Benato, and the wonderful ranch he had in Santa Barbara, Calif., where I spent many glorious summers overlooking the bay," he said. "He did it all himself, even built his house. It was a magical place, and it made a lasting impression on me. My place is my interpretation on the memory."
Stauffer's Overlook Gardens at the Sacramento Wash boasts 10 intimate seating and eating areas in and around his gardens. Ocotillos two stories tall and creosotes as big as most people ever have seen - in full bloom in brilliant yellow at this time of year - dot the landscape, along with fruitless mulberry, globe willow, mesquite and an assortment of fruit-bearing trees that shade the garden.
The garden itself is decorated with an eclectic mix of recycled and refurbished furnishings and original art.
"I'm a recycler; personal resource management is the thing with me. Waste not, want not," Stauffer said.
Sunflowers and rosemary, garlic and geraniums, zucchini and zinnias co-exist in this companion-planting concept, where conserving water is a must, and where Stauffer shows that a lush garden is possible with even in a xeriscape minimal-maintenance, water-conserving planting mandate.
Stauffer looks to turn his main house into Golden Valley's first fine restaurant in a couple of years.
"Even though I'm at the bottom of the valley, I'm on a knoll overlooking the Sacramento Wash and have a great unobstructed view of the north valley and the mountain range that is the perfect country ambience for a fine restaurant," he said.
The Overlook will feature homegrown fruits and produce, fresh-baked goodies, and organic beef and poultry that Stauffer will use for his special barbecue to eat in or take out.
"Real home cooking with real food and a swell view and relaxing ambience: Who could ask for more?" he said.
In the meantime, he continues to plant and harvest and design his next project, a rainwater-harvesting system to take advantage of the rains when they come and capture some of the water that rushes by in the wash when it's running.
The Overlook Gardens can be seen by appointment. The grounds are available for a donation for weddings, intimate parties, retreats and other gatherings.
For more information on the Overlook Garden at the Sacramento Wash, the fall gardening and permaculture classes, photos or more about reserving the garden, call 565-5670.
Leave your name, telephone number and mailing address, and Stauffer will mail a brochure.