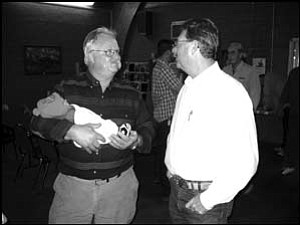 Originally Published: May 11, 2007 10:27 a.m.
KINGMAN - Golden Valley Fire Chief Harry Nystedt has spent the last 16 years looking after the valley.
More than 40 family, friends and co-workers got a chance to give thanks for his service and wish him well Friday night as he prepares to ride off into the sunset.
"It was just time," Nystedt said.
He will get to hang up his boots and accomplish what many aim to do during retirement: fish.
Within a mile of the Lake of the Ozarks, the soon-to-be home of Nystedt and his wife in Missouri will give him plenty of opportunity to do so.
Nystedt said he will miss all the people whom he has met over his decades on the job, and that he also will miss working in emergency services.
"It's a job that you enjoy," Nystedt said.
Nystedt has worked with the Golden Valley Fire Department for the past 22 years. He worked at the Twin Lake Fire Department in Michigan prior.
With the loss of Nystedt, Golden Valley Division Chief Rudy Barboa has been named interim fire chief.
Whether Barboa remains or a new candidate is named will be up to the board of the fire department.
"He led the department, in a great direction," Barboa said. "We're a growing department and he has led us the whole way."
Barboa said Nystedt has been involved with and developed several committees in the county and the state - so many that he couldn't name them all.
"I've known him half my life," Barboa said. "It's sad to see someone leave that you've known for so long."