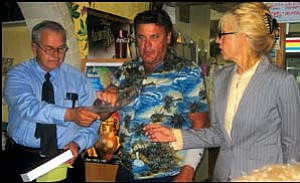 Originally Published: May 11, 2007 10:17 a.m.
GOLDEN VALLEY - Two state officials spoke to a packed house at the second Golden Valley Republicans Reborn club meeting on April 28 at Vince's Pizza and Ribs in Golden Valley.
GV Republican Party Precinct Committeeman Lou Trank presented club president Bridget Langston with a gavel.
"We would like for you to have this gavel," Tranka said. "It is yours to use for as long as you're president, and you will be able to pass it on to the person who comes after you."
Langston thanked the 45 club members and guests, and promised to use the gavel and her position as club president wisely.
Speakers for the evening were state Rep. Nancy McClain of Bullhead City and state Sen. Ron Gould of Phoenix.
Tranka said Gould met with and supported the efforts of some of the members and the Golden Valley Minutemen at a rally in Lake Havasu City to protest the imprisonment of border guards Ramos and Campean.
"We all need to join in making the party what it used to be, what we want it to be and what we see missing in our politicians," he said. "We're watching what you're doing."
Gould told the club he firmly believes in what the group is trying to do.
Gould said one of the most important functions for groups like the new Republicans club is registering voters and building the party.
Most of the state legislation is aimed at Maricopa County and Phoenix because of one man, one vote, he said.
"There's Maricopa County, with about 80 percent of the state's population. There's Pima and then there are the 'other 13 counties,'" Gould said, adding that it's important for voters to realize their legislators are busy with a lot of legislation that's geared toward the more metropolitan Maricopa County and doesn't pertain to "the other 13 counties."
For that reason, it's more important than ever for communities like Golden Valley to recruit precinct committeemen.
"Golden Valley can have six precinct committee members," Gould said. "Right now, you just have two. That leaves four openings."
He said local political action can rectify a lot of what's wrong with Arizona as a whole.
"For example, take transportation state wide," he said. "The formula is that 60 percent of the funding goes to Maricopa County."
Another 24 percent goes to Pima County, and the rest of it, just 16 percent, goes to the rest of the state.
"When I looked into it, they sheepishly told me that 16 percent last year was all used on I-10 in Pinal County. The rest of the state was left out. But now we know, and we're there, fighting for you."
Gould also addressed the Fair Tax proposal that would eliminate the IRS and income tax, and replace that tax with an across-the-board 23-percent sales tax.
"In many ways, it's a much fairer tax," Gould said. "Illegal aliens now are getting by without paying the income tax the rest of us have to pay. They're being coddled and that's a dangerous situation.
"The Fair Tax would apply to everyone who spends money, including the illegals. They have to buy food and goods, just like the rest of us."
And each household would receive a refund for "necessities," such as groceries and medications, he said.
McClain said Gould had already covered much of what she had planned to address.
She said her district is so large, encompassing most of Northern Arizona, including the Strip, that it takes her four days to visit communities in the entire district.
One man, one vote means the most heavily populated area - Maricopa County - gets the most political attention and has the most influence on legislation and how money is spent in Arizona.
She said the bills and laws to which Gould referred that affect primarily Maricopa County often keep the legislators from passing laws that would be good for the rest of the state.
Then, one audience member called her on the carpet for what he called her weak stance on the illegal immigrant issue. Luca Zanna of Golden Valley said he was very disappointed that McClain failed to support a bill that "took a hard line on illegal aliens,"
He said there was a "very large" protest by supporters of illegal aliens in Bullhead City and in Phoenix and other cities last year.
"It will be interesting to see the rally they have planned for this year," he said.
McClain said the immigration issue is covered by federal policy over which she has no control.
"Each person in this room has as much influence with the federal government as I do," she said, adding each person wishing to live in the United States should go through the same process to become citizens. "Keep the pressure on your federal legislators to make sure that happens," she said.
Langston and Vice President Mike Oagland said the Golden Valley Republicans Reborn club meets at 6 p.m. on the last Sunday of each month, and everyone is welcome. A site will be announced for the next meeting.