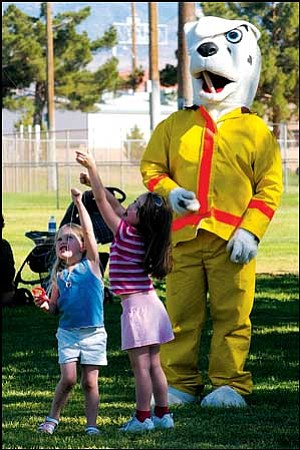 Originally Published: May 11, 2007 10:44 a.m.
KINGMAN - Bright sun, cool breeze, grass beneath your feet - the perfect day to fly a kite.
The Kingman Daily Miner hosted the 17th Annual Kite Day Wednesday at Centennial Park. Miner Graphics Director Colleen Machado, who hosted the affair, said the event began as part of No TV Week that used to be put on by the Kingman Unified School District. During that week, Kite Day was the Miner's contribution to get children out of the house.
"This is our way to give kids a free, fun day at the park," Machado said.
On Wednesday, dozens of families enjoyed hot dogs and hamburgers and free kites. Valerie Wood's 5-year-old daughter, Autumn, was quite enamored by Sparky the Fire Dog. Wood said Autumn loves to fly her kite and became quite anxious to show Sparky all that she could do. Wood, a new Kingman resident, said she saw the event in the Miner and felt it would be a fun way to play outside with her daughter and get to know her new home.
Carol Weaver also enjoyed bringing her two grandchildren, Jason, 4, and Paige, 3, out to Kite Day. It's a good way to get the children out of the house, she said.
D.A.R.E. officers attended Wednesday's event with Officer McGruff, and the Kingman Fire Department brought Sparky and a fire truck. The Sheriff's Office also made an appearance at the event.
Elks Club members cooked the hot dogs and hamburgers, and Kingman True Value helped to pay for the food and drinks.