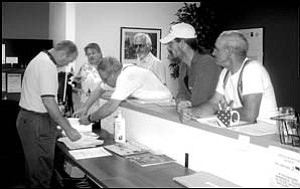 Originally Published: May 18, 2007 8:43 a.m.
GOLDEN VALLEY - Despite their leader being confined to a hospital bed, the Incorporate Golden Valley executive board paid a visit to the Mohave County elections office on May 7, delivering petitions containing 341 signatures of Golden Valley residents in favor of establishing a town government.
Allen Tempert at the elections office inspected the petitions and determined they held 341 signatures, the same number the IGV had tallied.
The elections office will inspect the petitions more closely to make sure all of the signatures are valid, and then begin the process of setting a ballot date. Registered voters living inside the proposed incorporation area will have the chance to vote for or against the initiative this fall.
Establishing a new town government in Golden Valley may be possible, but no one expects it to be free.
One audience member told the Incorporate Golden Valley Board of Directors on April 21 that he has done some research and found that in most cases, it costs $500,000 a mile to pave roads, and that the $1 million price tag Sheriff Tom Sheahan placed on starting a new police department last year has just jumped to $1.1 million.
IGV Chairman Henry Peairs Jr. reminded all 24 people in attendance at the public meeting that the county had received $52 million a few years ago to pave the roads in Golden Valley.
"What happened to it?" he asked. "I still see a lot of dirt roads out here."
Board member Dennis Emery also sits on the Valley Pioneers Water Co. Board of Directors. He said the prices being tossed around weren't "low-ball figures."
"It can be done for less than half of what the state says it will cost," he said. "For instance, Valley Pioneers Water Co. was charging $14 for a foot of pipe and we were covering our costs at that price. The state says we should be charging $32 and they're forcing the water company to charge $21 now. If we pay attention, we can control costs for a new city."
Board member Nora Hillemeyer said it will be a year after incorporation is official before the town government has to fully take the reins.
"We have revenues now that are going to the county and Kingman that should be spent right here in Golden Valley," she said.
Sheila Richardson said the number of residents who appear to use their yards as garbage dumps "has to change."
"We're not garbage," she said.
Peairs agreed the county has not been able to enforce its junk ordinance in the valley, but a city ordinance and neighborhood watch groups could have a positive impact on the situation.
Patricia Randolph, IGV secretary, said the county has worked in the past with the community, doing trash collections.
"Maybe we can get them to do that again," she said.
Harry Drew addressed some of the false statements that some valley residents have leveled against the IGV board members, and some of the misinformation that is circulating from various sources.
"What this board has experienced is called contextual deception," he said. "There will be more, but I'm very pleased and proud of the work you've done."
Regarding the expense of what Drew called "a fledgling city," he said the newly formed town government would be eligible for "lots of surplus equipment from larger cities, at pennies on the dollar," and for state and federal grants.
He also said he had spoken with county engineers, who told him the county is responsible for maintaining the roads in Golden Valley only to the level the roads were maintained when the county took them over, "when there were only 2,000 people living out here."
"The elected city council will have to handle these issues, but rest assured that we won't be taxed out of our homes," he said. "We will have the control of the council. Now, we have no control."