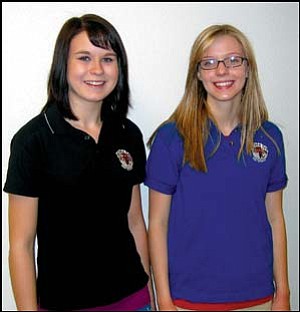 Originally Published: May 20, 2007 9:43 p.m.
KINGMAN - Parental reaction appears mixed in the wake of a decision May 8 by the Kingman Unified School District Governing Board to adopt a uniform shirt policy next year at Kingman High, and Kingman and White Cliffs middle schools.
KHS Principal Pat Mickelson said about 25 parents attended a meeting Tuesday night at the school to discuss the new dress code. Reaction was about 50-50 for and against it.
Betsy Parker, assistant superintendent, earlier in the day said 10 calls from parents had been received at the district office since the 3-2 board vote to adopt a uniform shirt policy. All 10 were supportive of it with some wanting the requirement down to elementary grades.
Lake Havasu High went to standardized shirts as part of its dress code at the start of the 2004-2005 year, Principal Kathy Cox said.
"I became principal the year before and many kids told me then they felt the campus atmosphere was hostile, although not all due to shirts," she said.
"Dress code violations went way down after the change took effect. We don't have much violence on campus, the demeanor of students is more respectful, and school spirit is better," Cox said.
LHHS students wear polo or T-shirts to school in solid colors of black, white, gray and purple with the school logo on them.
Most students quickly adapted to the standardized shirt requirement, with many now wearing them around the community. There was a small pocket of resistance to the change among parents at first, she said.
Safety and security were top considerations when Cox went to her school board and got a 3-2 vote to require the shirts on the campus of roughly 2,000 students. "We have students no longer attending here and some drop by with friends from Kingman or Needles," Cox said. "We don't recognize all the faces, so the standardized shirt is one way to know if it's one of our students.
River Valley High School in Mohave Valley is another school with uniform shirts.
The school resource officer there reports a significant drop in disciplinary problems since going to the shirts and student ID cards a year or two ago, Sheriff Tom Sheahan said.
"It seems to work well there, although the school is about half the size of Kingman High," he said. "What we know is there is more structure and continuity now at River Valley, along with more discipline, and there's nothing wrong with that."
The Kingman Academy of Learning opened in 1995 and had school shirts as a dress requirement from the first day, district administrator Susan Chan said.
Chan said it takes away the "status" factor some students consider important. "We felt it would allow children to focus more on academics," she said. "Extensive research was done, and parents understood our reasons from the start."
KAOL primary and intermediate students (up to grade 5) have shirts in solid colors of red, blue and gray to wear. Middle school (grades 6-8) students have logo T-shirts and two polo shirt options in white or light green. High school students wear polo shirts in black, khaki or royal blue with the Tiger mascot on them. All grade levels have pullovers and zip-up attire available to wear in colder weather.
"It has enhanced safety more than anything else," Chan said. "We know who belongs on campus and who does not.
"When we have children out in the park, we know which are our children and which are not. That's a huge advantage because our kids have recess in (Centennial Park) once a day."
The most recent enrollment figure for KAOL is 1,432 students.