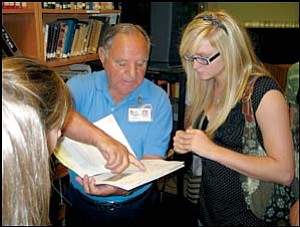 Originally Published: May 25, 2007 10:54 a.m.
KINGMAN - English I students taught by Christina Kraus at Kingman High School got a better picture of the horrors of the Holocaust era of 1933-45 during a May 14 field trip to the Los Angeles Museum of the Holocaust.
"We read 'Night' by Elie Weisel, and prior to reading of his experiences in surviving, we did a lot of study of non-fiction works from the Holocaust and World War II," Kraus said. "The trip was to fuse together everything they'd learned."
"Night" is Weisel's candid, horrific and deeply poignant autobiographical account of his survival as a teenager in Nazi death camps.
Adrian Alatorre, Andrew Link and Koral Daniel were among 37 students who made the trip. The group spent two hours with Holocaust survivor Albert Rosa at the museum.
"He shared his whole testimony from before the Holocaust to sometime after it," Daniel said.
In addition to his personal account of how he survived at Auschwitz, perhaps the most infamous of the death camps, Rosa showed students photos from the era. In one photo, Rosa wore boots he took away from a Nazi officer after the war, beating him up in the process, Alatorre said.
Rosa also showed students roll call numbers tattooed on his left arm, Link said.
Daniel said Rosa was a boxer and that enabled him to fight off people trying to hurt him at Auschwitz.
He'd made a promise to a brother he saw hung that he would try to stay alive.
Rosa, 85 and of Greek extraction, is not all skin and bones as one might expect of a death camp survivor.
"He's in pretty good shape," Link said. "He got five medals from the American Army that he went to fight for after the war.
"The high point of the trip for me was getting to wrestle with him. He stood up against a wall and challenged me to push his arms up against the wall. I got his left arm to the wall, but not the right."
Having the opportunity to talk to a Holocaust survivor and having a picture made with him were the high points of the trip for Alatorre.
"He covered everything from his perspective," Alatorre said. "Ms. Kraus gave us an overall view, but he got into depth."
The trip gave Daniel a new outlook as well.
"I have the feeling my life isn't too bad and could get a lot worse," Daniel said. "It makes me want to keep going."