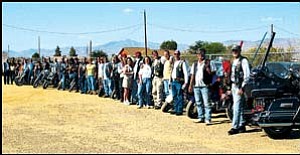 Originally Published: May 25, 2007 10:49 a.m.
GOLDEN VALLEY - They're riding for freedom, to honor this nation's veterans and existing military personnel, and specifically to call attention to the issue of service men and women who still are missing in action or being held prisoners of war.
Rolling Thunder Inc. XX- Spirit of Freedom Run Across America made its first stop on its second-annual cross-country ride on Thursday afternoon at the Golden Valley American Legion Post 22.
Wayne Elliot, Post 22 Sons of the American Legion Adjutant and newly elected SAL Commander, began a dialog with Rolling Thunder organizers that resulted in the riders stopping at the Legion post on Thursday.
"Eagle Many Hats contacted me; he had been talking to the Rolling Thunder people," Elliott said. "They had first planned to stop at the American Legion in Kingman, but that post doesn't have enough parking for this kind of event. So we started talking and here they are."
Elliott said his first contact with Chap Joy, president and chaplain of Rolling Thunder Inc. Chapter 1 in California, was in April.
"We thought then that I had one week to pull this together," he said. "But then they changed the date to May 17. I've still been working like crazy, and for a while I didn't think we could pull it off. But it's turned out just great."
Rolling Thunder and the American Legion both presented some awards at the event, and Joy said her organization would like to make Post 22 in Golden Valley a regular stop on its ride each year.
Awards recipients included:
• Post 22, "for your generous hospitality," Joy said. "We have never felt so welcome. We're super delighted to be here today. You're the friendliest group we've ever seen."
• Elliott - "I cried when I saw how generous and kind you were to us," Joy said.
• The Vietnam Vets - "We hope you'll have us back again next year," Joy said.
• The Hualapai Nation Honor Guard - "I would love to get them to join this post," said Many Hats. "I know them. They are all good men. They are all worthy."
• Joy - From Post 22 for Rolling Thunder. "The Hualapai Honor Guard named her Walking in the Sky because she walks with God," Man Hats said.
• Rolling Thunder - From the Post 22 Ladies Auxiliary.
• Rolling Thunder - From the SAL, which also sent a banner signed by many of the Post 22 members, to the Vietnam Memorial Wall in Washington, D.C.
The Rolling Thunder's POW/MIA awareness ride began in Victorville, Calif., earlier on Thursday and will end in Washington, D.C., on Memorial Day weekend. The California Highway Patrol escorted the riders from Victorville to the Arizona border, where Eagle Many Hats and others from American Legion Riders, Golden Valley Post 22 and friends picked up the escort duties.
The riders stayed overnight at motels in Kingman, and the American Legion Post 22 escort accompanied them to the New Mexico state line at Window Rock, Navajo Nation.
Chap Joy, president of Rolling Thunder Inc. Chapter 1 in California, said riders already had joined them from far-flund locales, including the state of Washington, Hawaii, Australia and all up and down the West Coast.
Most are veterans or family of vets, and together they hope to initiate action on part of the US government to search for MIAs and POWs.
Joy said they still number in the hundreds in Vietnam alone.
She said Rolling Thunder eventually will pick up other riders until they merge into one large Rolling Thunder procession with thousands of participants in Washington, D.C.
Joining them on Thursday in Golden Valley were the Legacy Vets and the Vietnam Vets motorcycle clubs.
Numerous groups and individuals turned out Thursday, including American Legion Post 8 out of Las Vegas and the Hualapai Veteran's Honor Guard from Peach Springs.
Richard Walema Sr. of the Hualapai Veterans said his group was happy to be a part of the celebration at Post 22 Thursday and that they were there to honor Hualapai tribal member Michael Bruce Jones, who died in action in Vietnam in 1968, and all other veterans.
He said the Hualapai Tribe has 123 veterans who have served the country over the years.
JC Amberlyn, Kingman Daily Miner photographer, contributed to this story.
More like this story