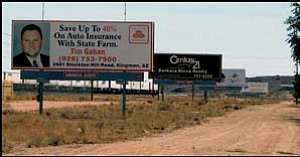 Originally Published: May 28, 2007 5:42 p.m.
KINGMAN - An off-premise sign policy for Kingman is now in its seventh month of debate.
After the city staff's recommendation to ban billboards was praised by two residents at a meeting Monday, City Council made a motion to extend the debate, but this time by giving time to form a committee of business owners, residents concerned about sign clutter, city staff, and representatives from a billboard company.
In November, Developer Bubba Grimes of Celebrate Homes asked the city for a conditional use permit to build a 128-square-foot sign on the corner of Airway Avenue and Route 66.
By unanimous vote the Planning & Zoning Commission and city staff recommended that Grimes' request be denied even though it met all city requirements. Instead of taking action, Council postponed the request and asked the development services department to research the city's sign ordinance and come back with recommendations addressing the main concern: sign clutter.
Development Services Director Gary Jeppson did, but not to the satisfaction of the commission last month, and apparently not to the satisfaction of Council last week.
Jeppson provided two possible ordinances, one eliminating all future billboards, and another allowing them only along the interstate.
"I really don't favor either suggestion," Councilman Ray Lyons said Monday, preferring the formulation of a review committee. "I think we're doing a disservice to visitors of our city if we ban all billboards ... when I go to another city, the first thing I look for is a sign to direct me where I want to go."
Councilman Tom Spear agreed, noting that because all the billboards are currently taken, the only opportunity to get another one is if the city annexes land along the interstate.
Vice Chairman of the P&Z Commission Mike Schoeff has said in the past that complete elimination of new billboards would be a disservice to local businesses because it would eliminate an advertising avenue that directs people unfamiliar with Kingman to the stores.
Two residents had their own feelings on the issue Monday night, and they voiced their support for Jeppson's proposals.
Rebecca Goodman, a northern Kingman resident, cited the Web site ScenicAmerica.com, which called billboards "visual pollution," "skytrash," "the junkmail of American highways" and "litter on a stick."
"Here is a chance for us to stand out and choose quality of life over unsightly, excessive commercialism," Goodman said. "One of the assets our community has is the beauty of our surrounding landscape. I believe billboards litter our landscape and cheapen our city."
Goodman suggested creating a colorful map highlighting local businesses, logos or tourist-oriented directional signs.
As an example to be followed, Goodman said in the state of Vermont, the first to ban billboards on the highway, everybody thought that tourism and businesses would disappear, creating "an economic wasteland."
"You know what happened? Tourism skyrocketed up because people kind of liked seeing the views and not seeing the billboards," she said.
Resident and member of Residents Against Irresponsible Development Gwen Gilman commended Jeppson for recommending no more signs.
"I don't believe many people actually believe that billboard signs are attractive. They clutter the city, they are aesthetically unpleasant, and most important, they create a visual obstruction on major roads," she said.
Council voted to take the commission's recommendation and form a committee to handle the issue, that way all sides will have a voice in the matter. The mayor asked both Gilman and Goodman to sit on the committee.
At a previous meeting, representatives from an advertising firm spoke in favor of allowing a multi-sided billboard at the same site requested by Grimes.
Out of frustration that Council hadn't taken action on its recommendation from a month ago, one Council member said, the P&Z Commission this month approved the much-debated sign request for Lamar Advertising. It still requires approval from Council.