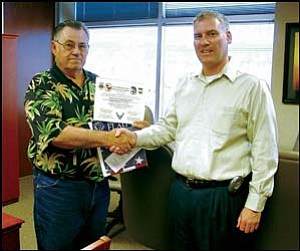 Originally Published: May 28, 2007 9 p.m.
KINGMAN - Mohave County Prosecutor Keith J. Evans has returned from deployment in Iraq. Evans, a U.S. Navy Reserve first-class petty officer, spent four-and-a-half months in the combat zone.
"It's so good to be back in this country," Evans said. "I'm so thankful for the United States."
Evans, of Golden Valley, brought back a symbol of the coalition's resolve to Mohave County. On May 17, he presented Chairman of the Board of Supervisors Pete Byers with an American flag that was flown on a combat mission in Iraq.
Byers expressed his pride in Evans and his gratitude to him for his service.
"This is really fantastic," Byers said. "I am really proud of Keith and the wonderful things he has done for the country ... and it is very humbling to receive this American Flag from him."
Evans was a part of the Other Coalition Forces Iraq force.
"A lot of the stuff I did was classified," Evans said. "I was observing a lot of things going on in theater."
Evans said he started off in Balad and eventually ended up in Baghdad for the rest of his time. He was even involved with the detainees. He said they are adding a large area for defense attorneys just to represent detainees with treatment complaints at one detention facility by the Baghdad airport.
He also said the coalition security forces are even more diverse than what we see on television.
"I ran into forces, some who were from security contracting firms, from Peru, Uganda and even Georgia which used to be part of the Soviet Union," Evans said.
Evans said he found the sights and sounds of Iraq to be quite interesting.
"When I was in Ramadi near a mosque, I was listening to the call to prayer," he said. "It sounded beautiful. I mentioned this to an individual who spoke Arabic, who then told me they were calling for people to kill Americans during their prayers."
Evans kept long hours overseeing operations against the terrorists. He said he worked seven days a week for 12 to 16 hours each day with no time off.
"There are all kinds of people killing other people (over there)," he said. "What I saw was more involvement of the Iranians and what they are doing behind the scenes. They are behind a lot of the very powerful explosive devices that are killing our troops."
Evans said he felt the Iranian government is supporting the combatant forces in Iraq. He also added fighters are coming from Syria.
"The borders are huge and very porous," Evans said. "They have these Bongo trucks, thousands of them, transporting items across borders and throughout the country.
"You'd see whole fleets of them. They would get stopped and searched, but just like our border, we could find a path where they are coming through, and almost overnight, they will change operations."
Evans credited the use of cell phones and the Internet by the cargos for their ability to adapt quickly.
Evans has seen the American forces at their best.
"I have so much respect for our conventional forces," he said. "Those Marines and Army guys go out every day. They know they are going to get shot at."
Evans also credits the advanced medicine, communications and technology for aiding in the survival of the troops. He added he felt at least half of the 24,000 wounded probably would have been fatalities without those advancements.
"Things are nice and quiet," Evans said about being home, "the way I like them."
Evans' enlistment will be up in November, and he is undecided about whether he will stay in the U.S. Navy Reserves. "I'm thinking about it," he said. "I'd much prefer to be an officer than an enlisted man."