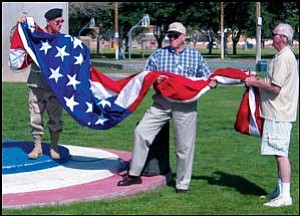 Originally Published: May 30, 2007 9:55 a.m.
KINGMAN - From the death of the Crispus Attucks in the Boston Massacre to Kingman's own Coty Phelps in Iraq, community members gathered throughout the city on Memorial Day to give respect and recognition to those who have given their lives for the freedom of this nation.
Members of the Elk's Lodge and the American Legion Post 14 gathered at dawn Monday to place American flags on the graves of local veterans at Mountain View Cemetery on Stockton Hill Road.
Throughout the various ceremonies of the day, the common theme of the speakers was to use Memorial Day as a way to remember the veterans who have selflessly given their lives defending our nation and freedom, rather than looking at it as just a three-day weekend.
Mayor Les Byram, veterans and citizens gathered at Centennial Park for words of reverence and a flag-raising ceremony. Several local veteran groups spoke of their peers who lost their lives in battle and post-war.
The holiday also presented the perfect opportunity for a dedication of the Veterans' Memorial at Locomotive Park. The official plaque describing the memorial and crediting those who helped it come into creation was unveiled.
Chuck Chlarson of Kingman helped design the memorial and coordinate the ceremony on Monday.
Chlarson, who is the Commandant of the Marine Corps League 887, said he thought the dedication ceremony went well with a crowd larger than expected.
The creation of the memorial began in July 2006 and had an initial dedication ceremony on Veterans Day last year.
Though additional plaques for each pillar representing the military forces haven't been installed yet, community members got to see the first dedication bricks in the floor of the memorial.
The floor of the memorial can hold over 700 bricks, according to Chlarson.
Individuals who are interested in dedicating a brick at the memorial for $100 can contact Chlarson at 279-2798.