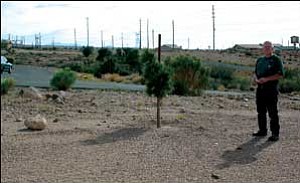 Originally Published: November 1, 2007 1:28 p.m.
A local resident isn't letting the City Planning and Zoning Commission's icy response to private wind generators keep him from powering his home.
Duke Schrank said he was dismayed by the Commissioners' abbreviated review of Bullhead City businessman Scott Travis' request for a zoning amendment to allow wind turbines on residential lots of one-half acre or more.
Travis, owner of Catchin' Wind Windpower, appeared at the Oct. 9 P&Z Commission meeting, and he made his request again at the Oct. 15 City Council meeting. Both requests were unanimously denied.
Travis said private wind turbines generally must be taller than 40 feet to properly harness wind power. City zoning limits accessory structures on residential lots to no more than 35 feet in R-1 areas and no more than 15 feet in R-2 areas
Commissioner Mike Schoeff worried about the potential of the residential turbines to block neighboring property owners' scenic views. His implication that the towers would be "blights" angers Schrank.
"I doubt he's ever been up there," Schrank said. "He couldn't have if [he thinks] this is going to be a blight on the neighborhood.
"There are I don't know how many power poles up there well over 40 feet high. At the end of the street is a 100-foot cell phone relay tower, and right next to it is an electrical power Schrank isn't so optimistic about his ability to go "off the grid." He estimates he will probably be able to discount his reliance on traditional power by 30 to 50 percent. Still, assuming he spends $8,000 to $10,000 on his tower, the approximate installed price range for the Skystream 3.7 model he is seeking to purchase, Schrank thinks the system will pay for itself in about seven years. Southwest Windpower, the company that developed the Skystream, advertises a payoff period of as little as five years.
When asked what his company's policy is concerning the use of wind power by consumers, Salkowski said UniSource is "interested in encouraging customers to install alternative energy sources.
"Currently, we do not have incentives available for customer-based wind installations to match those that we offer for solar power," Salkowski said. UniSource has proposed incentives as part of its plan to comply with new Arizona legislation encouraging the use of alternative energy, however.
The next step for Schrank is to obtain a conditional use permit to allow a generator on his property. Jim McErlean, a plans examiner in the city Building Department, said Schrank can handle the process more quickly if he applies for a building permit and the CUP concurrently.
To apply for a building permit, one must submit two sets of plans to the building department - a site plan that shows where the structure will be located and a structural plan that shows how the structure will be constructed.
Building permit fees vary according to the value of the structure to be constructed. Assuming the wind turbine Schrank installs is valued at $10,000, he will have to pay $117.81 for the plan review and an additional $181.25 for the building permit itself.
To apply for a CUP, one must fill out an application, available online or in person through the city Planning and Zoning Department. The CUP carries a fee of $500 for residential areas, which must be paid at the time of application.
Applicants are encouraged to schedule a meeting with a P&Z staff member prior to submitting an application. In that meeting, the staff member can tell the applicant what kinds of issues may be involved in the approval process.
The CUP application must be submitted at least 17 days prior to the P&Z Commission hearing at which the application will be considered. At least 15 days prior to that hearing, P&Z staff will post notices on the property in question, as well as on bulletin boards at the City Complex and Development Services buildings downtown. Notice is also published in the newspaper and sent to each property owner within 150 feet of the applicant's property.
P&Z staff report on the CUP application at the hearing, and the applicant can provide further descriptions of his intended construction and use. The commission can then discuss the application and recommend approval or denial.
That recommendation is forwarded to City Council, which considers the application at its own public hearing. Council can then render its decision to approve, deny or modify P&Z staff's recommendation.
Although the process can be time consuming, Schrank appears ready to do what he must in order to decrease his dependency on traditional electricity and lower his energy bills.
"I'd say the wind blows up there about 80 percent of the time - might as well put it to work," Schrank said.