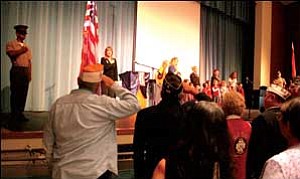 Originally Published: November 11, 2007 5:10 p.m.
Social Studies Department students at Kingman High School thanked America's veterans for their service and sacrifice Friday during the 11th annual Veteran's Day Program.
Veterans contacted before the tribute eagerly looked forward to it.
"I've been here several times and the students do a nice job," said Ray Keating, adjutant of VFW Post 10386. "It's good for the kids to realize what veterans have done in the past and continue to do now."
"I try to never miss it," said Harold Murphy, commander of VFW Post 3516. "The kids put on a good show that has perspective and is inspiring.
"I enjoy listening to the kids' speeches and testimonials."
Principal Pat Mickelson welcomed veterans in attendance, along with members of the junior class. She said she is the daughter and daughter-in-law of veterans, and her husband was in the Marine Corps for 12 years.
During the course of the program, she read excerpts from a diary kept by her father, an Air Force veteran who died earlier this year. He was the pilot of a B-17 Flying Fortress during World War II and flew missions from England into Germany.
His seventh mission, on Jan. 29, 1944 lasted 7-1/2 hours to Frankfurt. Skies were undercast, permitting 60-75 "bandits" (enemy fighters) to come up and attack two squadrons.
His bomber had to "feather" (shut off) a damaged engine and the bomber sustained bullet holes in its right wing. There also was an injured crewman on that mission, which saw three other B-17's shot down.
A mission to Hamburg on April 22, 1944 lasted 7-1/4 hours to marshalling yards. No enemy fighters were encountered; however, anti-aircraft fire was heavy and one plane in the lower of two squadrons was downed by it. The higher-flying squadron he was in had no significant damage and returned to its base after dark.
"That's the legacy I wanted to share with you," Mickelson said. "It shows the cost of service and he was my hero."
There were student readings of what Veteran's Day means. Carrie Walls needed 10 minutes to write her tribute in a poem titled, "Freedom Lives":
"Here I stand with my right hand over my heart.
Here I stand listening to the music of freedom of love.
Here I stand in appreciation and absolute honor that is ineffable.
I am free thanks to you who stand before me.
I am free because of your courage and strength to fight.
I am free because of your words that inspired millions.
I am free.
I went to a book and opened it and there I saw facts.
I went to a veteran and looked in their eyes and there I saw images.
But I looked in their heart and there I saw an untold story.
I listened to the stories told by teachers, but didn't see the emotions that they had.
I listened to stories through the Star Spangled Banner, and there I cried my tears of freedom.
Here I have written a poem of appreciation and honor.
Although there is no comparison for what you have done for the United States of America and my words of expression, I want you to know I truly appreciate all your efforts, and that you have made me more open to the words, 'Freedom Lives.'"
There also was a special tribute to Coty Phelps, a 2004 KHS graduate who served in the U.S. Army as a paralegal working for the Judge Advocate General's Office. He died in Iskandariya, Iraq, on May 17 when his Humvee hit an improvised explosive device.
Members of Phelps' family accepted a wall hanging signed by Coty and other members of his class who enlisted in the military in 2004.
"This helps us to understand the magnitude and cost of service," Mickelson said.
The tribute concluded with the playing of "Taps" by senior Kyle Keller.