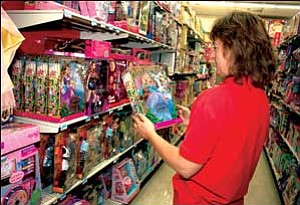 Originally Published: November 23, 2007 2:37 p.m.
Toy-related injuries sent nearly 73,000 children under age 5 to emergency rooms and 20 died in 2005, according to the most recent data available from the Consumer Product Safety Commission.
Those numbers should be kept in mind as parents begin shopping for toys this holiday season.
Arizona Public Interest Research Group has released its 22nd Annual toy safety report called "Trouble in Toyland." The full 58-page report may be viewed on the Web site at www.arizonapirg.org.
In the report's Executive Summary, it states many toys that were produced in China were recalled earlier this year from leading manufacturers such as Mattel due to unacceptably high levels of lead content.
"There are some toys produced in this country that are high in lead, so it's not just an international issue," said Nick Theisen, spokesperson for the PIRG. "Toys with lead are coming from all over and we must test them before they get to store shelves."
Exposure to lead can affect nearly every body organ, especially the central nervous system, the report states. It is particularly toxic to the brains of young children and can lead to permanent neurological and behavioral damage, blood poisoning and life-threatening encephalopathy.
Choking, strangulation, toxic chemicals, magnets and excessive loudness in toys are other dangers delineated in the report.
"There presently is no mechanism in place at the federal level to ensure toys are tested, which is why we want Congress to pass a law requiring third-party testing on every toy before it goes on a store shelf," Theisen said.
Theisen said HR3691 is the Safe Consumer Product Act, which is sponsored by 150 representatives and encompasses three safety reforms the PIRG wants to have implemented as follows:
• Reduce all lead levels, whether in paint or the product, to the level recommended by the American Academy of Pediatrics. That is 40 parts per million, which is 15 times less than the current allowable level of 600 ppm.
• Increase budget and staffing for the CPSC. The agency currently has only one toy tester and 15 inspectors to check millions of toys at hundreds of ports of entry.
• Require companies to guarantee their products have undergone independent third-party testing before putting them on store shelves. Congress should also give the CPSC more tools to punish companies that ignore or break the law.
While many of the hazards cited in the report relate to children 3-and-under, Theisen said parents need to know their children.
"Some older children up to age 8 may put things in their mouths," he said. "If I were a parent with a child tending to do that, I would not relax my supervision."
Toys with small parts that may detach or balloons are among the most dangerous for young children.
Here are some of the toys cited as hazardous in the report:
Choking hazards - Baby Chou Chou, Special Welcome soft Bean Bag Doll, 4 Pack Water Toys, Cuddly Cousins Plush animal head, bugs and spider, and Pop Pop Jet Fighter.
Excessively loud toys - Power Gear Max 10 Fazer, Elite Operations Astro Blaster Set.
Toxic chemicals - Dream Girl fashion frenzy and princess pouch, Glitzy Girl Cosmetics Glamour Kit.
Magnetic toys - Super Magnets, Fun 'N Games Magnetic Dart Board, Safari Science Magnetic Marbles.
An attachment to the report gives toy-related deaths by category for the period 1990-2005 for children under age 15. It includes: 166 for choking or asphyxiation (69 balloons, 47 balls, 5 marbles, 45 toy or toy part); 78 for riding toys or scooters; 14 for toy chests; 14 for strangulation; and 20 "others."