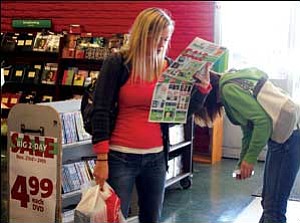 Originally Published: November 25, 2007 1:41 p.m.
Kingman retailers contacted seemed pleased at shopper response to sales kicking off the Christmas shopping season on Black Friday.
"Early shoppers have been after the Fender Starcaster guitars we had," Hastings store manager Rick Garland said. "We had nine of them when we opened at 8 a.m. and they were gone in 45 minutes.
"A lot of people also are taking advantage of DVD box sets. They normally sell for $29.99 to $49.99 and now are $15.99 each."
The guitars were on sale for $99.99, which was 50 percent off the regular price.
Melissa Moreno picked up DVD box sets of Rambo and NYPD Blue in the store. She also was looking for video games such as "Assassin's Creed," a Nintendo Wii memory card, and Xbox 360 with controller.
Tammy Anhalt was seeking a DVD set of "Charmed."
"It's what I came in for," she said. "But it does not mean I won't leave with something."
Hillary Goitia, manager at J.C. Penney, estimated 60-80 people waiting when her store opened at 4 a.m. for a 9-hour "Start Smart Doorbusters" sale offering 10 percent off.
"We have some great gift ideas like leather jackets, men's novelty items and a lot of clothes for the kids," Goitia said.
One of the novelty items available was a heated mug, so the user could keep his or her coffee warm in the car.
Five people were observed waiting in line at the register at 9:15 a.m. and shoppers were moving about in all departments. One of them was Justina Carpenter.
"I'm just looking for Christmas gifts," Carpenter said. "I've found a remote-control helicopter and this one beats Wal-Mart's price."
Carpenter also had thermal T-shirts and socks in her arms as she prepared to head for the checkout line. She planned to visit other stores.
Parking was hard to find at Wal-Mart, which opened at 5 a.m.
"Shoppers are interested in our new in-store secret specials found on the Internet and our blitz items," store manager Paul Perkins said. "We have every register running, and I'm glad we do."
One of the blitz items was a 32-inch Polaroid television on sale for $448.
Additional merchandise was received for Black Friday sales. But Perkins said even he did not know what the prices would be of secret specials until the information was posted on the Internet.
Secret items available Friday from 5-11 a.m. included a KitchenAid Classic stand mixer for $139, Branded laptop computer for $388, Xbox 360 with $50 gift card for $279, featured video games for $19.88, and new DVD releases for $12.
Wal-Mart corporate policy does not permit shoppers to be interviewed inside the store.
However, Mike Kearns, the new chancellor at Mohave Community College, was encountered outside the building. He put a lighter spin on the day.
"I've got to buy some dog food," Kearns said. "I'm not doing any Christmas shopping now. I just want to get in and out quick."
Management personnel at Kmart were busy with customers and could not answer questions, referring inquiries to their corporate offices.
Carpenter was encountered again in the store. She found a MP3 player for $15.99, half of its normal retail-selling price.
"I want to find Christmas decorations now that I have presents out of the way," she said.
Gary and Carolyn Cole, a couple from Dolan Springs, also were in Kmart.
"I'm getting some ideas for Christmas today," Carolyn Cole said. "One thing I want is an oven."
The Coles were looking at countertop ovens.