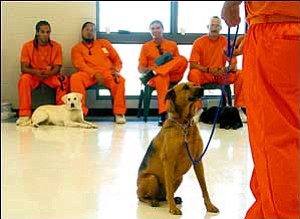 Originally Published: November 28, 2007 1:59 p.m.
Mutt Matchers, a local no-kill dog shelter, graduates five dogs from its Pound 2 Pen Partnership Nov. 30. The dogs comprise the seventh class of animals trained by inmate handlers at the Arizona State Prison, operated by Management and Training Corporation.
The handlers, who are non-violent offenders chosen for the program by prison staff, live with the five dogs under their care 24 hours a day for eight weeks. Mutt Matchers trainers Sandi Spruiell and Beth Snook hold weekly training sessions with the inmates and the dogs.
Inmates train the animals in basic obedience, helping to make the dogs more attractive to future adoptive owners.
In addition to these five dogs, a member of the sixth Pound 2 Pen graduating class is learning to provide guide services for Darrin Bracken, a Mutt Matchers volunteer and board member.
Mutt Matchers staff adopted Nestleé, a 3-year-old chocolate Lab, from Animal Control several months ago and subsequently placed her in the prison training program. Upon her return to the shelter, the staff noticed a strong bond between Nestleé and Bracken. They decided to try something they had never done - train a guide dog.
Nestleé will continue to train for a few more months before the staff turns her over to Bracken, but her inmate handlers will showcase her progress at the Pound 2 Pen graduation ceremony.
Judy Torgerson, president of Mutt Matchers, invited all interested residents to attend the graduation, which takes place Nov. 30 at 12:30 p.m. at the MTC facility. The prison is located at 4626 W. English Drive, which is reached from Exit 37 off Interstate 40.
Attendees must gain security clearance prior to the event by calling MTC at 565-2460.