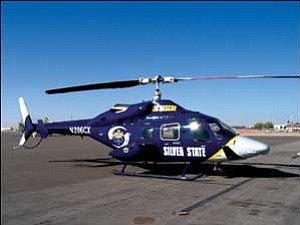 Originally Published: November 29, 2007 4:36 p.m.
It's a bird. It's a plane. No, it's Silver State Air Rescue helicopters that are now serving Kingman Regional Medical Center.
The air ambulance service, providing basic and advanced life support, arrived earlier this month after reaching an agreement with KRMC.
"We looked at the size of the community and the operations available," Jerry Airola said concerning why they chose to come to Kingman.
Jerry Airola founded Silver State Helicopters, which formed Silver State Air Rescue last year with Sun Care Air Ambulance.
The company met with representatives from KRMC, local law enforcement agencies and River Medical to determine the company's role in the community, Airola said. KRMC Public Relations Director Jamie Taylor said they had a previous working relationship with Sun Care Air Ambulance and continued it following the combination of the two businesses.
With Federal Aviation Administration certified air ambulance helicopters, emergency medical technicians can treat two patients at a time in what Airola described as a mobile emergency room.
"Everything you got in an emergency room, you got in this ambulance," Airola said.
A helicopter will be based at the Kingman Airport and will be serviced out of the Yuma base. It can and will respond to roadside accidents, he added.
KRMC isn't the only hospital to benefit from the service. Silver State Air Rescue serves eight hospitals in Yuma, Parker, Lake Havasu City and Phoenix.
They also reach Las Vegas.
So far Airola said he hasn't heard any negative feedback from Kingman regarding the service, and follows the adage, "No news is good news."
The company plans to focus on providing an air ambulance service in Kingman, however, they will re-examine the needs of the area in two years, Airola said.
"As the community grows, we'd love to support them," he said.
Silver State Helicopters recently opened an air traffic control training academy in New Braunfels, Texas. The company hires pilots who have graduated from their flight academy.
They plan to look for local emergency medical technicians to staff the Kingman helicopter. For information about the company and possible future careers, visit their Web site at www.ssheli.com.
Silver State Helicopters provides service to 44 locations in 18 states with more than 850 employees. It was named as one of the fastest-growing companies in the country by Inc. magazine's 2007 Inc. 500 list.
Beyond an air ambulance service, the company specializes in law enforcement air support, helicopter flight training, search and rescue, external load lifting, utility work, aerial photography, aerial tours and executive charters, and motion picture and television support.
Silver State Helicopters is a member of the Helicopter Association International Safety Team, Federal Aviation Administration Safety Team and the Homeland Security Council.
Being designated an air rescue helicopter won't limit its uses, Airola said.
"If there is a disaster of some type, we will respond," he added.
In the past, the company has donated and flown in rescue missions during the search for Elizabeth Smart and provided humanitarian relief and rescue support for victims of hurricanes Katrina and Rita.