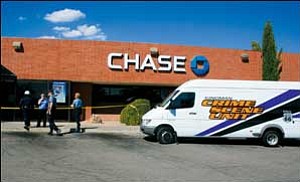 Originally Published: October 3, 2007 1:35 p.m.
The man suspected of robbing Chase on Tuesday afternoon is still on the loose.
Around 1:30 p.m., a 6-foot-tall thin man between the ages 25 and 30 entered the bank located at Stockton Hill Road and Kino and demanded money from a teller. He presented what appeared to be a dark-colored handgun, Kingman Police Sgt. Rusty Cooper said.
The man received an undisclosed amount of cash and exited the building on foot, heading in a westerly direction. He was wearing a white T-shirt, tan or khaki color shorts and a tan boonie hat.
The suspect also appeared to have a large bandage on his chin.
No one was injured in the armed robbery. KPD detectives are investigating.
Anyone with any information should contact the KPD at 753-2191 or Mohave Silent Witness at 753-1234.
This is the second time in less than a year the bank has been robbed.
Mark Joseph Powell of Oklahoma allegedly robbed the bank of $1,880 on Oct. 27. He was arrested in Nevada on Halloween after allegedly robbing a bank in North Las Vegas the day before.