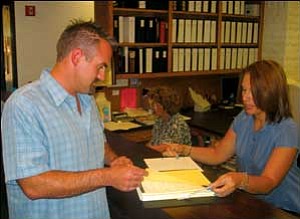 Originally Published: October 7, 2007 3 p.m.
If you yell loud enough, somebody will hear. On Monday, Mayor Les Byram did. On Wednesday, Travin Pennington answered.
In explaining that he doesn't take well to threats, Byram admitted that when someone threatened to remove him from his mayoral seat via a recall, the mayor struck back by threatening to turn in a developer and a church to the IRS for auditing.
"I mean exactly what I said at that time, because they were threatening me and anyone else that will threaten me, I will not sit and take it," the mayor said during a well-attended public meeting Monday.
"That's almost asking me to recall you," Pennington told the Miner Wednesday about Byram's comment. Luckily for Pennington, the threat of the IRS investigating him doesn't hold much water.
"I did get audited. They just wrote me a letter the other day, and they didn't find anything," he said.
So Wednesday at noon, Pennington picked up the paperwork for filing recall petitions. Once he turns the necessary documents back into the city clerk's office, Pennington will have 120 days to gather 1,150 signatures for the mayor and 1,094 for each Council member he wants out of office.
The reason for Pennington's action, which has been brewing for more than a year and a half, is simple: "There's threats from our leaders. We ask for help, we ask to look at these things, and we get threatened.
"The reason I'm frustrated is, I came to these people the last 18 months and asked for help. I went and met with every one of those Council members in the last 18 months."
"It got me nowhere. It got me threatened by the city manager and threatened by the mayor," Pennington said.
Byram said he didn't threaten Pennington, but he did threaten another developer and ally of Pennington's: Jay Schritter.
And depending on who helps with the recall, Byram may still write a letter to the IRS and have those behind this recall movement audited.
"I was being taunted," Byram said of the events dating back about six months. "You may remember, the ministry had the group out on the sidewalk and came in and threatened us with a recall. Then a couple days later outside the donut shop, and I told him exactly what I'd do as far as the church is concerned."
Referring to Schritter, Byram said, "I told him something like, that I'll write a letter to the IRS asking them to investigate them and the church and turn them into the political action committee."
Responding to the question of how he'll react if Schritter helps Pennington in this recall effort, Byram said, "I'll look and see who's behind it, then I'll go from there."
The timing isn't ideal, as the recall election would fall after the May Council election already scheduled; however, considering who will be in control of spending bond money (if approved by voters next month), and who will hire a new city manager next year, the symbolism of the recall may speak louder than the recall election itself.
Pennington hasn't decided exactly whom he'll try to oust, or even if he'll turn in the signatures, but gathering a couple thousand signatures from residents in the community would send a strong message to those considering running for re-election in May, the mayor included.
Three Council members and the mayor are up for re-election in May, but another three - Janet Watson, Ray Lyons and Kerry Deering - have another two-and-a-half years before their terms end, meaning that they'll remain in office until 2010 unless recall petitions are filed.
"Lyons and Deering are dangerous for the city," Pennington said. "We either have another two years of them or we don't. Obviously the public will pick whether we're right or wrong."
"For the mayor, it's a simple statement that we don't want you to run for mayor again. If the public doesn't support the mayor, I want them to come out in support of this," he said.
The impetus for Pennington's decision to recall officials came Monday, but problems brewing in city hall for the last 18 months had Pennington investigating city officials long before.
"I don't think the city can continue like this," he said.
The scandals surrounding former City Manager Paul Beecher, the details of his firing as well as the lawsuits he spurred, the web of controversy with city officials' e-mail, and the general unwillingness to help, according to Pennington, made him skeptical of local leaders months ago.
But Monday's display of a lack of professionalism from several city officials was the last straw.
"What Scott Dunton does, is that wrong?" Pennington said, referencing Dunton's frequent addresses to Council during public meetings. Dunton was the first to publicly call for Beecher's termination. He's since called for the mayor's.
"I understand it's not pleasant," Pennington said about being critiqued by residents, "but were we wrong? We asked them months and months and months ago to look into e-mails. Were we wrong?" he said, referencing a recent discovery from one of his e-mail requests that showed the city acted incorrectly in waiving impact fees, a violation of state statute.
Pennington isn't going to move forward with this unless the community is behind it, but the leaders downtown aren't fulfilling their duties, he said. The goal is to inspire the community to take a stand, whatever that stand may be. His message to the public is, vote in November on the bond election, vote in May on the mayoral race, and sign the petition to oust certain city officials if you agree with him.
"At the end of the day, I want people to get involved. If I am the crazy right-wing, (voters) need to tell me to shut up. If they agree with me, they need to vote."
"We need a new Council to hire a good city manager, and then we can go back to having blind trust in our leaders. We can skip a few elections, we can slack off. But now is not the time to slack off."
Responding to the news, Byram said, "Well, I just consider the source. This is just a move by the land developers and their unhappiness from the Council," unhappiness which Byram described as "absolutely not valid."
"I think the citizens of Kingman will say the say same thing. I'm not worried about it at all."