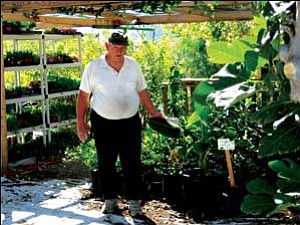 Originally Published: October 10, 2007 10:42 a.m.
It's not easy to find an oasis of green in the middle of the desert - that is, unless you live in Golden Valley.
Tony DeClue's Tradition Tree Farm at the corner of Tangerine Drive and Hope Road is as green as a good gardener's thumb. DeClue said he is certain he inherited his undeniably green thumb from his mother and grandmother.
"I was raised in rural Missouri on an 800-900-acre farm," DeClue said. "We always had a garen that covered three or four acres and that's what we lived off of. We had arbors of climbing roses and lots of different kinds of trees."
Oddly enough, he has fantastic luck growing everything except roses.
"I not only don't have a green thumb when it comes to roses," he said, grinning. "I have a whole black arm. I just don't understand it, but that's how it is. Roses are the only thing I just can't grow very well."
Tradition Tree Farm started as a "choose-and-cut" Christmas tree farm. DeClue said he recalled the excitement of setting out with his family to find and cut a Christmas tree each year when he was a child, and he hopes to create those same fond memories for Golden Valley-area families.
"It was a big deal to go find a tree and then bring it home and decorate it with popcorn and lots of trinkets," he said. "It's a tradition I kept when my own children were growing up."
Because his crop of Christmas trees are still too young to harvest, unless for very small homes or apartments, the tree farm will sell live trees this year and maybe in 2008.
"They should be big enough to cut for the average person's home in 2009," DeClue said.
For those who want a truly tropical Christmas, how about a dwarf banana tree, the kind that produces real bananas?
The nursery boasts 40-50 different kinds of trees and dozens of different types of indoor and outdoor plants, from pine trees to pecans, to figs and wandering Jew, all of which grow well in this part of the desert Southwest.
DeClue starts most of the trees from saplings in above-ground containers and transplants them to in-ground containers. His method allows the plants and trees to grow faster and healthier, while still making it easy for him to dig them up for customers.
And he expects to have a shipment of citrus trees arriving this month, just in time for fall planting.
"If you plant and water the right way, there's nothing you can't grow out here," he said. That includes apple and other fruit trees not often seen here, he said.
Now is the time of year for Golden Valley area residents to start their second garden, which will be ready for harvest at about Christmastime.
Mulch is one secret to a successful garden, and many vegetables do very well in container gardens.
"Potting soil gets too hard when it dries out," he said. "Mulch keeps the soil softer.
"And you don't have to spend a lot of money on fancy containers," DeClue said, indicating his tomatoes, lettuce and other vegetables growing in discarded tires placed on a tabletop for easy weeding and harvesting.
Even old dressers, bookcases and refrigerators turned onto their backs make fine container gardens.
"You can use almost anything. Just remember to poke holes in the bottom for drainage. Then get as creative as you want," he said.
DeClue also raises and sells a variety of ornamental grasses, vines and cactus, as well as decorative paving stones, plant containers and house plants.
Call DeClue for more information at 565-4643.