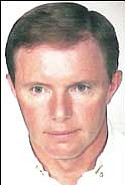 Originally Published: October 30, 2007 3:50 p.m.
Until the paperwork is filed with the court, the charges against a member of a polygamist supporting religious sect still stand.
Rodney Holm, 41, is facing sexual conduct with a minor and conspiracy to commit sexual conduct with a minor - charges which were to be dismissed following an agreement between Holm's defense attorney and Mohave County Attorney Matt Smith on Aug. 27.
At a status hearing for Holm Monday, Mohave County Judge Steven F. Conn said he has not received any paperwork from Smith dismissing the charges. Conn said he remembered both parties saying they had reached a stipulated agreement at the last hearing.
Conn set another hearing for 11:30 a.m. on Nov. 5 and ordered Smith to be present to explain the status of the case.
"The court will reserve the right to dismiss the charges with or without prejudice" at the next hearing, Conn said.
Bruce Griffen, the defense attorney for Holm, said he had sent a signed stipulated agreement to Smith's office at least a month ago and did not know why the court had not received it.
In the Aug. 27 hearing, Smith and Griffen said they had reached a stipulated agreement to dismiss the charges against Holm. In it, the two charges would be dismissed without prejudice.
The charges would be dismissed with prejudice at the end of one year if Holm completes 40 hours of community work service and does not commit any similar offenses over the course of the next year. By being dismissed with prejudice, the charges can't be filed again.
It was reached because the victim allegedly engaged in a potential blackmail scheme with her brother. She allegedly wrote a letter saying she would not testify if money was given to her brother and another man by one of the members of the Fundamentalist Church of Jesus Christ of Latter Day Saints.
Lacking sufficient evidence, Smith said he would not pursue criminal charges against the victim.
Holm, who is from the Colorado City and Hildale, Utah, area, was set to go to trial Sept. 5. He allegedly impregnated a girl under the age of 18 who was sealed to him as a plural wife by Warren Jeffs.
Jeffs, the spiritual leader of the FLDS Church, was found guilty on Sept. 25 of two counts of rape by accomplice in Washington County, Utah. He is facing five years to life in prison for each count. His sentencing is set for Nov. 20.