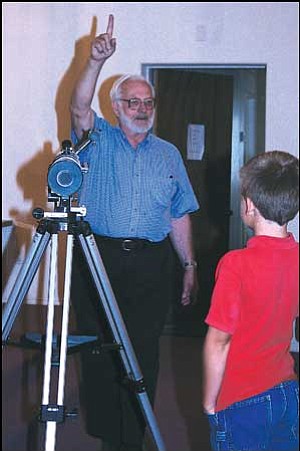 Originally Published: September 3, 2007 2:02 p.m.
Students at Emmanuel Christian Academy learned about using a telescope, constellations and more Thursday when Dan Lordahl, past president of the High Desert Astronomy Club, visited them.
Barbara Kuzma, a seventh- and eighth-grade teacher at the private school, arranged the visit. Kuzma is a clarinetist in the Mohave Community Orchestra and Lordahl plays violin with the group.
"On Monday, we studied the phases of the moon and the lesson coincided with the lunar eclipse," Kuzma said. "Students also learned about the constellations and both were things we added as extras to cover the state standards."
Lordahl said he was an experimental psychology professor for 35 years, teaching at different colleges and universities.
"I took astronomy in college in the early 1950s before any of you were thought of," Lordahl began.
"My wife and I took another course in it at the college five years ago and found a lot of things had changed."
Lordahl demonstrated how to use a telescope, one belonging to Kuzma's husband on loan for the occasion. A big mirror in it collects light from distant sources, while the lens allows the viewer to see objects more clearly.
He engaged students Drew Appleby and Dustin Smith to act as the earth and sun, respectively, and explained how their movements changed one's ability to view the constellation Orion.
Lordahl talked about Ursa Major and how its position changes with the season due to the earth moving in its orbit.
"Venus is the brightest object we can see, other than the sun and moon," he said. "It's so bright in a telescope you might not be able to see anything else for a while."
Nebulas and galaxies were discussed.
The universe is filled with gas, mainly hydrogen, Lordahl said. That gas is illuminated by nearby stars, especially if one explodes to create planetary nebula.
Andromeda is the constellation nearest to our Milky Way galaxy. Someday the two will collide and that will cause gravitational effects to throw all stars in both off their current paths, he said.
"Galaxies come in different forms," Lordahl said as his presentation drew to a close. "Our Milky Way is a spiral galaxy in which you can see a spiral coming off the top and bottom."