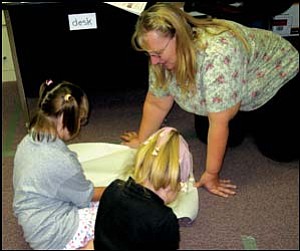 Originally Published: September 5, 2007 12:46 p.m.
Some 200 students attend EAGLE Academy, a K-12 charter school in Golden Valley. Principal Mary Stuart's goal is to prepare them to soar into adulthood with a successful academic career behind them.
"EAGLE is an acronym for EAGLE Academy of Guidance and Leadership in Education," Stuart said. "We have our Soar program in middle school and our Success program in the high school. We work on character education, leadership and helping them set future goals."
At the high school level, the program includes teaching each student to fill out college applications and financial aid forms, all with an eye to creating interest in a higher education and preventing students from becoming dropouts.
As a charter public school, EAGLE shares many attributes with traditional public district schools but also enjoys some differences.
Stuart said a charter school is state and federally funded, as are district schools, and must meet the same educational standards. Those include a full special education program, following No Child Left Behind rules, offering IDEA rules regarding equal access for students with disabilities, and issuing the same achievement tests as other public schools.
Unlike district schools, charter schools can carry money over from one year to the next, enabling them to save money for long-range projects.
Charter schools also set specific guidelines and a focus not necessarily shared by public schools. For example, some charter schools are aimed at gifted students, the arts, science and math or technology.
"Our focus is on academics," Stuart said. "Two years ago, we were on the state warning list. The state sent a team to help us write an improvement plan. I'm happy to say that our teachers and students and the parents have worked hard, and as a result, our students' test scores are improving continually. We can't get anywhere without the parents. They're so important.
"And we now have a full after-school tutoring program. All of our teachers participate at least two days a week, and it has made a huge difference," Stuart said.
EAGLE also instituted an individual progress program to track students each month rather than twice a year as was the prior rule.
"It's very motivating," Stuart said.
Eight seniors graduated last spring. Nine are due to graduate this coming spring.
The middle school has 20 students this year. Class sizes in the elementary average nine or 10 students, thanks to the charter school's ability to place a cap on students per classroom.
"That's another advantage charter schools have," Stuart said. "District schools can't cap their classes. That's why, in some schools, you'll find classes with 30 or 40 students. Our largest have 23 or 24."
The school has student councils at the elementary, middle school and high school levels, as well as plans to start a sci-fi club after school for middle and high school students.
It already has a drama club that plans to present a play in December, and a music program for all grades. Marilyn Piper, the special education teacher, also teaches elementary music.
EAGLE also offers cheerleading at the elementary and middle school levels, but there just aren't enough students to offer that program at the high school right now.
"We have a high sports league just forming for grades 5-12," Stuart said. "Having enough students who are interested and eligible to participate in sports through the entire school year is a challenge, but we have volleyball and touch football. Mr. Don Windecker went through the Pop Warner football program to form a cooperative team. Any student in the Golden Valley schools is welcome to participate. There are even some Kingman students who are part of the team. We also will have basketball and wrestling in the winter.
"Mr. Windecker is the gym teacher for third grade through high school. He's working with Mount Tipton School on the athletic program, and he does a great job. Our students take first in a lot of games and meets."
Succeeding in sports has a positive effect on students' academic success.
"We find that it really builds their self-confidence, and that carries over to the classroom," she said. "It's great to see our students developing the leadership qualities that are part of this school's focus."
Stuart's co-principal is Melanie Windecker.
"We have a very good professional partnership," Stuart said. "I oversee the teachers and she handles the finances.
"It's a small school, so we all wear a lot of hats," Stuart said. "We have a really fantastic staff. Everyone jumps in and helps out. They take on extra duties. I can't say it often enough: They're fantastic."