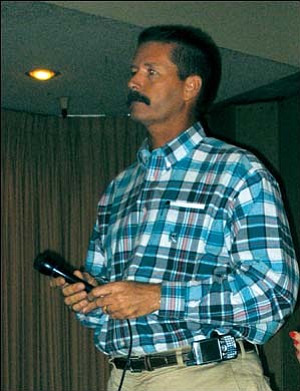 Originally Published: September 17, 2007 3:24 p.m.
KINGMAN - State Sen. Ron Gould voiced his views on illegal immigration and the governor during last week's Mohave Republican Forum.
Gould explained the current situation concerning House Bill 2772 to around 30 Mohave County Republicans who attended the event.
The bill requires employers to check the immigration status of potential employees before hiring them. If an employer knowingly hires an illegal immigrant, the employer is put on a three-year probationary status. If the employer violates the statue again during that three-year period they may lose their business license.
Starting the first of the year, residents will be able to file a complaint with their county, city or state law enforcement offices if they feel a business is hiring illegal immigrants.
Gould said the bill contains funding for local officials and the State Attorney General to investigate the complaints. "It's pretty strict, but it's a two strike method. Knowingly is a pretty high standard," he said.
Employers can avoid the fine and possible loss of their license if they can prove they checked the employee's status with the federal government and were told the employee was legal.
Many business owners are not happy with the new law and have filed lawsuits against it, including several large fast-food franchises in Phoenix and the Arizona and the United States Chambers of Commerce.
"So apparently, these folks want to make sure that they can continue to hire illegal aliens," he said.
Gould said he was as pro-business as anyone else, "but we can't let these folks continue to hire illegal aliens. We need to do something. And now we've decided to do something, and now we're being challenged in court."
A federal judge is supposed to rule on the matter sometime between mid-September and the first of the year.
"But it's just kind of ridiculous that you see these people lined up. And you know darn well why they're lined up. They're lined up because they're making a buck hiring illegal immigrants. They don't want to pay a high enough wage to get an American worker to do that job," he said.
He has spoken with a number of tile setters in Lake Havasu who are working in Las Vegas because they can't find jobs in Lake Havasu. They were making $18 an hour in Lake Havasu but now they're making $12 an hour in Las Vegas because illegal immigrants are taking over their jobs, he said.
NAFTA
Another issue that irritates him, Gould said, is the recent change in the North American Free Trade Agreement that allows Mexican truck drivers to displace American truck drivers. Originally, NAFTA limited Mexican truck drivers to 25 miles north of the boarder. Now they are free to drive anywhere across the country. Gould raised concerns over whether Mexican trucks were inspected to the same standards as American trucks and if American law enforcement officers would have the jurisdiction to police them for safety.
"I don't notice a big shortage of truck drivers," he said.
Gould said he's had a number of people tell him that these are jobs that Americans won't do.
"To me, that's just ridiculous. There's somebody to do any job," he said. You just have to have a high enough wage for people to do it, he said.
He said many people do not know that the original bill was much more restrictive. It required all business owners to sign an affidavit saying they did not hire illegal immigrants. If an owner was caught hiring an illegal immigrant, even if they weren't aware the person was illegal, the owner would be prosecuted for perjury.
The idea was unworkable. There would be no way that the state would be able to check every business, Gould said
"It's just kind of ridiculous. It came over to the Senate and I'm looking at this and I just knew that this was something I couldn't support," he said. The Senate then reworked the bill into the two-strike's method. He warned that the original one strike/affidavit bill was still out there as a voter initiative. A voter initiative is harder to overturn in court if it passes, he said.
When asked what the chances of the court overturning the new employer sanction law were, Gould said it was a "crapshoot." Once something goes to court you never know what the outcome might be.
Gould also complained that the once the bill passed both legislative houses, Gov. Janet Napolitano waited until the last minute to sign it into law.
"The governor is not the warrior against illegal immigration even though the Arizona Republic would like to tell you that," he said. "She's vetoed every single bill that's ever passed dealing with illegal immigration except this one."
"I think the only reason why the governor even signed this was because she saw the fiasco that went on in the United States Senate. I bet she just saw which way the wind was blowing and just signed it," he said.
No sanctuary
Gould said the Legislature is also working on an initiative to end sanctuary cities in the state. Sanctuary cities are areas where if a police officer arrests or pulls over an illegal immigrant they will not turn them over to Immigration and Customs Enforcement.
But the legislation process is a messy one, Gould said at one point, especially when it comes to the budget. A lot of legislators try to add projects that only benefit their area of the state. He said he tries hard to strip these projects from the budget.
"It's a messy business in reality. You would think we were all sitting down there thinking of what's best for Arizona, what's best for our constituents. That's not how it plays out. It's anything goes if you can get enough votes to do it. We've got tons of lobbyists. The lobbyists are actually running the Legislature.
"The lunatics are running the asylum," he said.
That's why residents see major increases in the budget every year, he said. Lobbyists are convincing legislators to add projects such as investigating creating a biotechnology center to turn the state economy around and creating an archive at Arizona State University for Barry Goldwater's papers.
"I think biotech is good stuff, but I don't think the taxpayers should foot the bill for it," he said.
When asked if he was going to endorse any candidates for the 2008 election, Gould said he wasn't endorsing anyone right now.
There are a lot of good candidates out there, he said, but there was no one candidate that he was really revved up about.
He suggested that attendees look at the voting records of candidates before choosing one to back.
He also warned attendees that the upcoming election would be another tight one