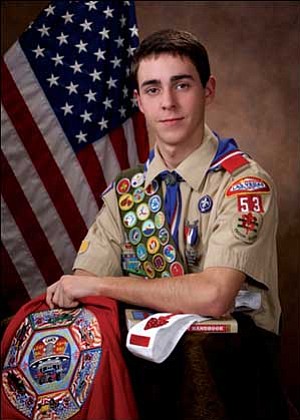 Originally Published: April 7, 2008 1:24 p.m.
Since joining the Boys Scouts of America in 2003, Cody Palm has had the honor of meeting President George W. Bush, and now Palm will be honored for obtaining the rank of Eagle Scout.
The Court of Honor ceremony for Palm, 16, of Kingman will be held at 1 p.m. on Saturday in the gym of La Senita Elementary School, 3175 Gordon Ave.
"It will be cool," Palm said of the ceremony. "It will be fun."
For his Eagle Scout project, Palm spent close to 100 hours improving the area around trailhead signs for the Canyon Loop Trail in Kingman.
Palm worked with Bruce Asbjorn of the Bureau of Land Management for the project.
Asbjorn wasn't the only assistance Palm had. Nine friends and family members also lent a hand.
Since joining the BSA in 2003 with Troop 53, Palm occasionally captained a small group of Scouts in drill team activities in Kingman.
Some include the opening flags for the Kingman drag races in 2006 and 2007 and other ceremonies for local baseball leagues and VFW memorial ceremonies.
Last year, Palm was the orienteering counselor at the BSA summer camp in Las Vegas.
He has held various leadership positions within his troop during the past five years and has given more than 100 hours of service to his community in addition to time served as part of his project.
Palm attended the 2005 National Scout Jamboree at Fort A.P. Hill, Va. While there, he met with President Bush and world explorer Steve Fossett.
"It was pretty cool," Palm said of meeting the president.
Palm became a brotherhood member of the Order of the Arrow, an honor society for the BSA, where he holds the position of lodge chief.
This isn't the first recognition of achievements for Palm.
He received the first ever Explorer of the Year Award from the Kingman Police Department. Palm currently holds the position of captain on the KPD Explorer Post No. 47.