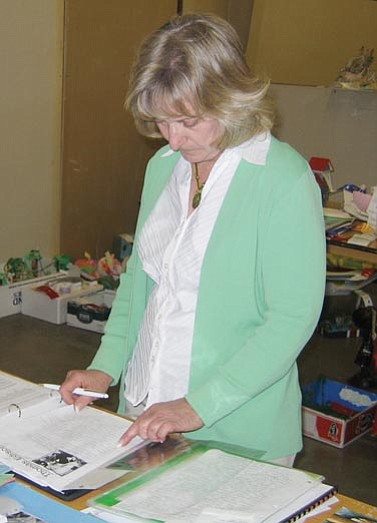 Originally Published: April 9, 2008 8:41 a.m.
KINGMAN - Something new will be featured during the 18th Annual Mohave Education Festival that opens Thursday night at the Mohave County Fairgrounds.
"We're going to have a spelling bee on Sunday," said Dawn McGill, festival co-chairman.
"We have an active lady here at Cerbat Elementary School involved in the (Cerbat Family School Organization). She heard about problems we were having in getting the Education festival going this year and she came in and suggested holding a spelling bee."
Students in grades 3-6 may participate, with trophies going to top finishers. McGill said 63 students were signed up for the spelling bee as of Tuesday, but walk-ins would be welcome at the event slated for 1 p.m. Sunday.
The Mohave Education festival is billed as a "celebration of learning." This year's theme is "A Journey in Time: the Orient Express."
Festival hours are as follows: 6 p.m. to 9 p.m. Thursday; 10 a.m. to 9 p.m. Friday and Saturday; and 11 a.m. to 4 p.m. Sunday.
About 4,300 students from public and home schools have entered more than 10,000 exhibits into the festival. They include areas such as painting, drawing, poetry, short stories, science projects, woodworking, sewing, baking and more.
Judges award ribbons as follows: purple for superior work; blue for excellent; red for very good; white for good; and green for participating.
Brown Amusements will provide carnival rides. All-day advance sale ride tickets may be purchased until 3 p.m. today at Cerbat Elementary School at 2689 Jagerson Ave. Those tickets are $17 each and will sell for $20 or more at the festival.
Carnival ride hours are 6 p.m. to closing Thursday; 3 p.m. to closing Friday; noon to closing Saturday; and noon to 5 p.m. Sunday.
The entertainment schedule accompanies this story.
The festival had its largest attendance with 5,925 people in 2000, McGill said.
"It decreased for four years after that before we saw an increase in 2006 and a slight increase in 2007," she said. "We're hovering around 3,800 right now."
Admission is $1 per person.
Fairgrounds parking is $1 per vehicle.