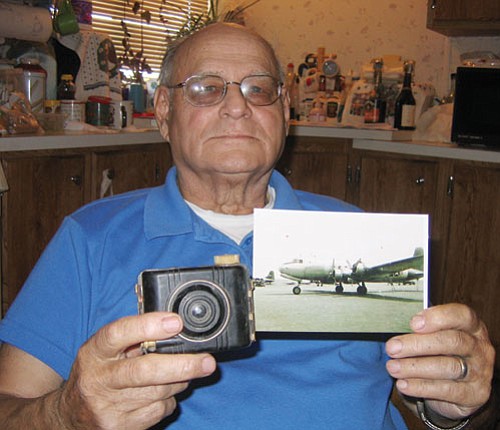 Originally Published: April 9, 2008 12:11 p.m.
GOLDEN VALLEY - Incidents one might describe as "hairy" can come in different forms, as Golden Valley resident Hank Arnold can tell you.
Arnold was in the Army following World War II and participated in the Berlin Airlift.
"One day I went out of our Berlin barracks and worked with our motor pool people to road test a Jeep," he said. "Russians on the other side of a canal would point guns at us, but they never shot at us."
Things were a bit "hairy" in a different sense in the barracks one day when Arnold arrived on the second floor to find a Russian soldier present.
"He was wearing a pair of boots he'd taken off a dead German and he had put each on the wrong foot," Arnold said. "I showed him the right way to put them on and then gave him a razor and showed him how to shave. He thanked me."
Arnold, who was born in Macedon Center, N.Y., enlisted in the Army on his 17th birthday in December 1945. He and his twin brother, Herb, went in together and were assigned to duty with the 3110th Signal Company in Berlin.
Arnold said he trained his brother to be a cook. Herb was promoted to corporal by the captain of the company, but Hank received no promotion.
The captain did not like him and transferred Hank to another unit in Berlin, the designation of which he could not recall.
The Berlin Airlift began June 27, 1948, and continued until May 12, 1949, according to information on the Web site of the Truman Library.
On June 18, 1948, American, British and French occupation forces established their own currency in an effort to stabilize the economy of their combined territory known as Trizonia. Soviet forces, trying to push them out of Berlin, countered the move by requiring all Western truck convoys traveling through Soviet Germany to Trizonia be searched.
Allied forces refused and rail traffic soon was halted to begin a blockade of cargo entering the western sector of Berlin. Lacking vital supplies and facing the prospect of starvation of its forces, the Berlin Airlift commenced less than two weeks later.
"My job was to take cargo off the incoming planes," Arnold said. "A German driver would come up to the plane in a semi. I got the cargo manifest off the plane and with six other guys we'd load up the truck."
Arnold worked at it for three months until September 1948. He then used 90 days of furlough and returned to New York state, where he remained until his discharge came through in December of that year.
He had a chance encounter that September with a former neighbor. Lt. William Roe was two years older and got off the plane.
Arnold had married his German-born wife, Margarete, about one month earlier.
"(Roe) and I exchanged words and it was the nicest feeling I ever got," Arnold said. "He asked how the German girls were treating me and I said, 'You'll have to find out yourself.'"
Arnold met up again with Roe on a Rochester, N.Y., street after his discharge. That was the last time they saw one another.
As a civilian, Arnold worked as a baker for Rold Gold pretzels in El Segundo, Calif., during the period 1960-67. He also put in almost 20 years during 1971-90 with Sondo, a vending company in Los Angeles, beginning as a route man and finishing as a mechanic. His main interest now is yard work.
He and his wife moved from Los Angeles to Golden Valley in 1991. They were driving through and Margarete liked the look of the area.