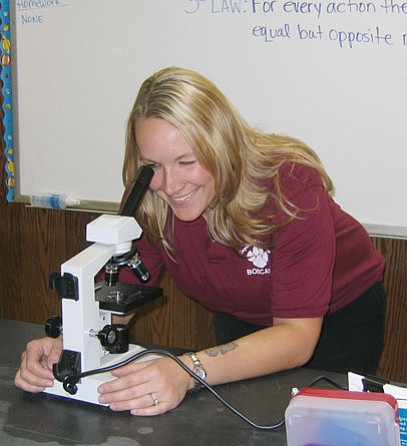 Originally Published: April 11, 2008 2:29 p.m.
KINGMAN - Cindy Libman is looking forward to living at least four years in Lake Havasu City, where her husband, Jason, is an Air Force recruiter.
She has gotten off to a good start as a teacher at Kingman Middle School, where she began instructing eighth-grade science in January. Three of her students nominated her for the Kingman Unified School District Honor a Teacher Award and she received it Wednesday.
"I do a lot of hands-on teaching to keep my students interested, as opposed to just book work," Libman said. "One demonstration I do is put vinegar and baking soda in an empty soda bottle, and the popping off of the lid gets their attention.
"We also do activities with different work stations that makes science fun. The kids like to get up and move around, and we have a lot of cooperative learning."
Principal Jerry Arave and Assistant Principal Larry Schmiegel presented Libman with a plaque made by drafting students at Kingman High School. She also received a $10 gift card to The Dambar & Steakhouse, along with a plant from Heaven's Scent.
On her nomination form for Libman, student Kimberly Burkes said, "I have never liked science, until this year. I never really could understand it, either.
"Mrs. Libman is very nice and won't go on until everyone understands. She breaks stuff down so you can understand. Before she came, we had a sub and I got As in that class but wasn't learning anything. Then Mrs. Libman came and I'm still getting As, but now I'm learning."
Savannah Myl and Bobbie Cossio are other eighth-graders who spoke highly of Libman on their nomination forms.
Libman earned a bachelor's degree in marketing from Florida Atlantic University in 2001. She said she taught seventh- and eighth-grade science in Pemboke Pines, Fla., and forensic science, biology and earth-space science at a high school in Niceville, Fla., for a total of 4-1/2 years before moving to Lake Havasu.
In her spare time, Libman enjoys tennis, going to the movies and playing with her boxer, Sampson.
"I just took up golf, too, and love it," she said.