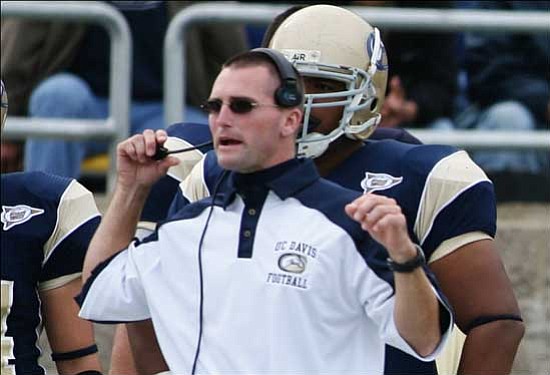 Originally Published: April 13, 2008 2:56 p.m.
Kingman High's new head football coach Jamie Nelson said on Thursday that he has two personal goals as he takes over the Bulldogs' program.
"I know that Kingman has been down lately, and I want to prove, not only to myself but to the community as well, that I can bring it back," Nelson said. "I want to make Kingman a playoff contender on a yearly basis."
Nelson comes to Kingman from the University of California, Davis where he wore many hats, according to UC Davis head coach Bob Biggs. "He was our strength and conditioning coach and worked with the linebackers and defensive line," Biggs said.
Nelson, 33, said that he left the Division I college program so that he could become a head football coach. Though he was on track to becoming a head coach in college some day, Nelson admittedly did not have the patience to wait for it. He said that he was very selective in his searching process for a job, and the Bulldogs' position was a perfect fit for him. "I wanted to be in a different environment," he said. "College football is a business world, and I wanted to have a bigger impact on the kids."
The first criteria Nelson had for his search was a small-town atmosphere where high school football was a big deal. Nelson said that the future upgrade of facilities plus generating excitement for the kids at KHS was something that he wanted to be in partnership with.
Nelson's desire to come to Kingman alongside the KHS selection committee's determination that he was their top choice makes the union between the coach and the school cohesive.
"We're real excited. He was who we wanted," athletic director Tim Casson said. "When a program has been struggling, we feel fortunate that our top choice wanted to come to us."
Casson said that the Bulldogs' job attracted more than 30 applicants. "Some were people that came from all over, as far away as Wisconsin, Florida and Washington," he said. "Some were more serious than others."
Casson said that the selection committee was comprised of six members, though he declined to give the names of those on the committee.
"We had two people from the community, coaches, a teacher and another staff member here at the school," Casson said.
The selection committee was very impressed with Nelson's work ethic, according to Casson. "We found him to be very high energy and highly organized," Casson said. "We just had a strong sense of what he wanted to do and accomplish."
Nelson's references told the committee that Nelson did indeed have a tremendous work ethic, and the committee felt strongly that whatever was needed to get things turned around for Kingman football, Nelson was the guy to get it done, Casson said.
"You're getting a good man," Biggs said. "His energy and enthusiasm will attract players to him because he has the best interest of the players. He's about improving the players."
Nelson said that he already has tentative plans as far as getting the kids of Kingman excited about football. He said that he plans to have a high school camp, and hopes to have some of his friends with NFL experience participate.
He is also aware that he not only has to attract players to his team, but has to include the parents as well. "I'm hoping to have an annual golf tournament where the parents and kids will get a chance to know the coaches," he said.
Nelson also understands that he has to seek out the players in the younger grades. "I have to get those kids fired up, too," he said. "They're our future."
The new coach has a long history on the defensive side of the ball. Nelson said that he played defensive back in high school and college, but he will be able to put an offense together. "I've watched as much offensive film as I have defensive," he said. "I have ideas of what I want to do."
Nelson said that part of putting an offensive package together begins with meeting the returning Bulldogs, putting a staff together and seeing what will fit best for the first year. "It will evolve," he said. "You can't do it all in the first year."
He said that he continues to study offensive schemes and plans on meeting with some of his friends who are head coaches in Florida.
"I think Jamie has kind of a plan in mind," Biggs said. "The defense will be sound, and he'll keep things simple to make sure the team is sound on both sides. He'll take advantage of any playmaker's skills."
When Nelson arrives in Kingman, one of his first tasks will be to put his staff together. He said that he wants to make contacts with the coaches from last year's staff and see where their interests lie. "If I have to, I'll go out looking for coaches," he said.
"I do want on-campus coaches for interaction with the players," he said.
Nelson also said that his football team would be a reflection of his beliefs. He said that his team would be disciplined, hard working and selfless. "I put the team in front of myself," Nelson said. "As a coach, I do it for the people that work for me."
Nelson considers himself a hybrid when it comes to his coaching style. "I'll yell across the field if it's a great block," he said. "I don't yell when a player makes two mistakes. After that, we'll have to turn up the intensity on my expectations."
Biggs said that the players would gravitate to Nelson. "The kids will like him. They will have to abide by a set of rules. Once they get to know him, he'll generate the interest to get the kids to want to play for him."
Nelson said that he hopes to be in Kingman by the end of the month so he can start working with the kids and begin the journey of restoring Kingman's football reputation.