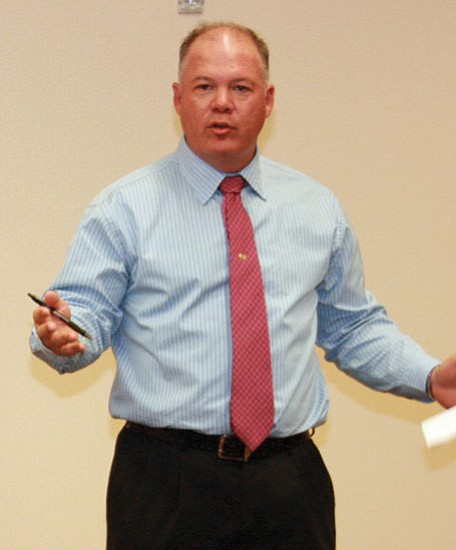 Originally Published: April 13, 2008 3:20 p.m.
Mayor-elect John Salem delivered a well-received anti-alcohol message Tuesday during a meeting of The Coalition for Successful Youth Development.
Salem was guest speaker at the meeting held at the Mohave County Sheriff's Office.
"I want to talk about the physiology of alcohol and what happens to the human body from its consumption," Salem said. "Alcohol in the form of liquor or any other drink consumed is a poison not meant to be ingested into the body.
"Some people are pre-disposed to having an enlarged heart. Electrical discharges cause the heart to beat in sequence, like the timing chain on a car. People with enlarged hearts don't have it beat in sequence and clots can form."
Alcohol consumption increases the danger to those with enlarged hearts, he said.
"In my family lineage we have addictive personalities," Salem said. "I'm one who can't sit and have one or two beers. I had to have a 12-pack.
"If you never drank before, do you know about your family lineage and the pre-disposition for problems you could have from alcohol consumption? Why take the chance?"
Salem also said alcohol causes liver and pancreas damage. It also impairs judgment and causes the user to have irrational thoughts and decisions.
He wrapped up his comments by saying his life has been blessed since alcohol, tobacco and anything to do with a chemical dependency is gone.
Meeting attendees gave Salem a round of applause when he finished.
Linda Martinez reported that a Kingman City Council meeting on March 17 drew a good turnout of youth and adults.
"They heard what we had to say about underage drinking," she said. "We got the point across of what we're doing with youth and adults in the community."
City Council member Janet Watson spoke about the underage drinking town hall co-hosted by The Coalition and Arizona Youth Partnership last Thursday night at the Hampton Inn & Suites.
"(AYP Colorado River Regional Director) Tammany McDaniel worked hard to coordinate it and it was the best town hall yet," Watson said. "The comments made by our mayor-elect and his sharing of personal experiences was wonderful."
The town hall drew 78 people. A lot of good information was handed out and people asked questions about underage drinking, said Dave Brehmeyer, chairman of The Coalition for Successful Youth Development.
Brehmeyer added he has had some contacts with people interested in a mini-town hall event downtown that would draw in people from that area, and it is being examined.
Brehmeyer called for coalition members to man a booth and "meet and greet" people from 10 a.m. to 2 p.m. Saturday during Kingman Regional Medical Center's Kids Day. It will be held in the parking lot of the Del Webb Wellness & Rehabilitation Center and will offer a further opportunity to extol the underage drinking message.
Pam Kowalski, community development coordinator for AYP, told attendees youth surveys are to be distributed at area schools in the coming month and asked for volunteers to help. She may be contacted at 692-5889 or via e-mail to pam@azyp.org.
Surveys will be handed out during lunch hours as follows: Monday through Thursday at Mt. Tipton School in Dolan Springs; Monday through Friday at Black Mountain School in Golden Valley; April 21-25 at White Cliffs Middle School; April 28-May 2 at Kingman Middle School; and May 5-9 at Kingman High School.
"We must do this to see if we're having any impact on their perception of underage drinking," Kowalski said.
Brehmeyer added the surveys also are necessary to maintain grant funding.