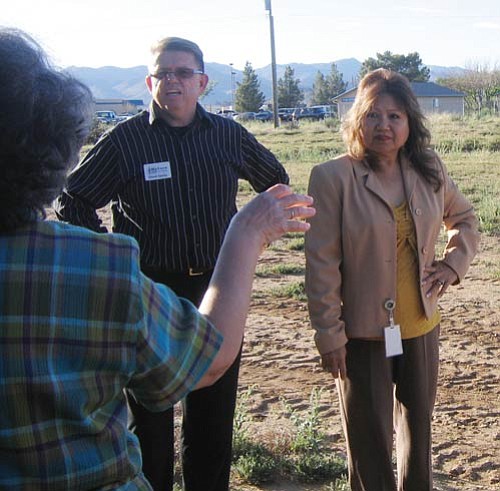 Originally Published: April 16, 2008 6 a.m.
KINGMAN - Getting an artist's rendition of the Kingman Center for Performing Arts is the next step toward creation of the multi-purpose facility to be constructed on the Kingman campus of Mohave Community College.
That was agreed upon Monday night during the monthly meeting of the board of directors, chaired by Lynne Steiger, program representative and One Stop coordinator for the Mohave County Community and Economic Development Department.
Vice Chairman Lisa Beauchamp, Treasurer David Roe, Secretary Rosanne Rosenberg, and members Robin Gordon, Julie Moon and John Taylor attended the meeting at MCC. Chuck Spotts, vice chancellor of instruction and student services at MCC, also is on the Board and was present.
In addition, Jean White attended as a guest. She helped Steiger formulate the vision for the center.
Steiger said at the outset that construction of the center probably would not begin prior to 2011. Funding sources have yet to be identified, an artist's rendering of the center must be drawn, and an architect hired.
It is hoped the Center will bring in education, workforce, tourism, culture and entertainment, all to enhance qualify of life.
It will have a youth annex offering GED, arts (fine, audio, visual) crafts and dance, training, workshops and after-school programs. There also would be a senior annex offering GED, leisure studies and activities, computers, arts and crafts, training and workshops.
Spotts conducted the group on a tour of the site the college is dedicating to the facility, which may be about 10 acres in size.
"My question is do we know how much property we need for the size of the building we want to build, and if no, how do we make the determination?" Gordon said after the group reassembled in the meeting room.
"We need to know the number of seats and from that we can determine acreage," Spotts responded. "We must make decisions of what we want to build or we won't have a clue on how much money we want to raise."
Steiger said this is all part of the strategic planning.
"I don't want us to be overwhelmed with what we have to go through," Steiger said. "We must follow our plan step by step."
Gordon said she didn't want to overbuild but at the same time wants to see a center that would meet community needs for at least 10 years.
"In order to get people excited and a buzz going you're going to need an artist's rendering, even if changes come later," White said. "People need to see what it will look like, not just read words about it."
Beauchamp, Gordon, Steiger and Rosenberg were in Flagstaff on April 9 to visit the Flagstaff Cultural Arts Center. They agreed it has a nice gallery of 4,000 square feet.
However, it lacks adequate parking space, a kitchen and signage around the facility is confusing.
Would a center with 600 seats be adequate now, Steiger asked.
"I think 500 seats is a good number," White said. "If Rhodes comes in with 120,000 homes, we know there will be tremendous growth in the next five years."
Discussion then turned to an architect. Gordon said she would be surprised if anyone local can be found with the experience necessary for the project.
Moon said an architect with green experience is necessary. Beauchamp agreed, saying buildings with green design incorporate solar heating and are easier to obtain grants for.
Architects interested may contact Steiger at 753-0723 ext. 4436.
If the center is to have 500 seats, what type arrangement would be worked out between the committee and college, Steiger asked.
"I can't answer that at this time, as I'm not a lawyer," Spotts said. "It might be an intergovernmental agreement, lease or something else. We'd have to look at precedent and see what would be best from a legal aspect."
Youth in the community should get involved, Steiger said.
"We should encourage art students to come up with a rendering of what the center would look like," Taylor said.
That would also stir interest among parents and raise awareness, Steiger added.
Beauchamp said she would contact administrators with the Kingman Unified School District and Kingman Academy of Learning to try to get students involved in drawing a rendition of the center.
Gordon suggested other potential building sites be explored that may be more suitable and members agreed.
Steiger told members she recently attended a United States Department of Agriculture workshop. Its director told her the USDA could loan $10 million for the project.
"He said it would not be a problem, but I don't think that's the route to go," Steiger said. "It's not a grant, but a loan with an interest rate of 4 percent. The question is, what is our repayment capability?"
Members agreed not to pursue it at present.
Gordon said she would contact the Arizona Commission on the Arts and get a representative to come to a future meeting.
Spotts brought up the Yavapai College Performance Hall that opened in Prescott in 1992. Built at a cost of $7.1 million, it encompasses 50,000 square feet and has a seating capacity of 1,200.
"It's the crown jewel in the community and attracts big name acts," Spotts said.
It would be good to see an actual performing arts center, Steiger said.
Members agreed to do some Internet research on the facility and may consider a future trip there to see it.
"I'd like to meet the people involved early in that project, along with those now," Spotts said.
"They're losing money, but consider it a public good. It costs $300,000 annually to maintain."
The committee will hold its next meeting in the Finkbeiner Administration Building at MCC at 5:30 p.m. May 12.