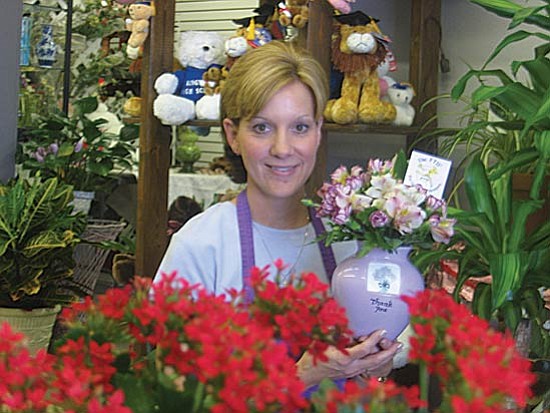 Originally Published: April 22, 2008 7 a.m.
KINGMAN - A reminder to Kingman's white-collar workforce: Wednesday is Administrative Professionals Day, also known as Admin's Day, or in simpler times, Secretary's Day. It's not always the easiest of quasi-holidays to remember, wedged as it is between Easter and Mother's Day, but for the office employees who make Kingman's business community possible, the recognition does mean something special.
So too, does the holiday have significance to area florists, for whom business is brisk, if not necessarily overwhelming, during the week of Admin's Day. But the holiday's character is quite different from some of the year's bigger floral occasions, presenting its own set of challenges to the florists who hope to take full advantage of a very sudden increase in demand.
"We usually try to send a fax out a week ahead of time," said Stacy Thomson of Heaven's Scent Florist, 3111 Northern Ave. "But it's definitely a last-minute holiday."
Thomson runs Heaven's Scent alongside owner Sue Becker, her mother. She said while the two most intensive floral holidays of the year - Valentine's Day and Mother's Day - are usually thought out in advance and prepared for, the sudden realization for many that Admin's Day is coming has required her business to brace itself for the potential of a large number of orders all at once.
"[Monday and Tuesday] we'll get a few orders," she said. "But the day of we'll get the most orders."
Also, since the holiday is business-oriented, that means many orders can flood in at once from a single source.
"We go to the [car] dealerships, and there are so many secretaries we'll have 20, 25 orders going to the same one," Thomson said.
One way Thomson and Becker prepare for the rush is to offer Admin's Day specials - pre-made bouquets themed to the holiday, sometimes paired with a special offer. This year's theme - Sweet Retreat - consists of an ice cream cone-shaped vase topped with a 'scoop' of flowers and a gift certificate to Dairy Queen. Heaven's Scent is also offering a butterfly-themed planter and a watering can filled with an assortment of spring flowers as alternatives.
"We just do the specials so we're prepared for the rush," Thomson said. "We've got one customer who calls in and says, 'Whatever you're doing this year, do it!'"
Becker pointed out that the pre-made bouquets aren't always the preferred choice for Admin's Day. The florist offers a range of flowers, plants and themed balloons to personally tailor a bouquet for any employee - and any price range.
"There's nothing typical in the flower business," Becker said. "That's why we have to be ready for anything."
Heaven's Scent isn't the only florist in town with preparations for Admin's Day. The Mandarin Orchid House at 3137 Stockton Hill Road is also offering several special bouquets for the holiday. One is a bouquet of lilies and carnations in a lavender "Thank You" vase, and the other two are tall and short variants of a butterfly bouquet - carnations interspersed with white and purple butterflies. The florist is also offering a selection of holiday-themed balloons and cards for those interested in personalized bouquets.
Mandarin's owner, Kathleen Scott, said she recognized the significance of the holiday, having once worked in an office herself and remembering how her coworkers felt the year management forgot them. She said the holiday's placement on a Wednesday this year has some employers opting to stretch it for all it's worth.
"We've had people come in today and order today," Scott said Monday morning. "Sometimes they'll do it today so they can enjoy it all week."
All the same, Scott said her cooler would certainly be full on Wednesday.
A third florist, Olde Towne Flower & Formal at 1701 Stockton Hill Road, does not offer any specific specials for Admin's Day. They do, however, offer personalized bouquets for employees and will prepare gift baskets with small gifts, including lotions and candles.
For more information or to place an order, call Heaven's Scent at 757-9111, the Mandarin Orchid House at 753-6355 or Olde Towne Flower & Formal at 753-0019.