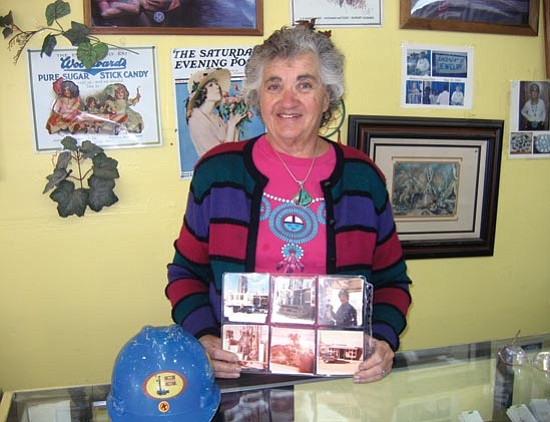 Originally Published: April 22, 2008 7 a.m.
KINGMAN - Dona Tippetts holds a singular distinction: She is the only woman to ever work as a driller at Duval Mine north of Kingman.
"There were three 8-hour shifts and we had eight drillers to keep two drills going all the time," Tippetts said.
"The drill was a foot-wide round steel pipe that went down 75 feet into the ground for molybdenum and copper. A lot of sand came out, so we took samples to determine what was down there."
Drills were mounted on treads similar to a tank, so they were mobile.
Holes were drilled in a pattern. Then, powder crews would put in diesel fuel and white pellets (the name of which she could not recall). The drill was moved to one side and a blast set off.
Tippetts and her family moved from Salt Lake City to Kingman in 1969 because her son, Cameron, was deaf. The family had to establish Arizona residency before he could enroll at the Arizona School for the Deaf & Blind in Tucson. Property was cheaper here than in Tucson.
Tippetts' husband, Cloyd, became very ill and she needed to find a better paying job than the one she had at Circle K in 1970. Her break came through acquaintanceship with Ken Kelly, a Duval supervisor.
"He came in, saw how hard I worked and said he needed me at the mine," Tippetts recalled. "That went on for two months before I put in an application. I went to work at Duval about 10 days later."
She began as a laborer making $1.65 an hour. She dug ditches and along with 11 other laborers moved 8-inch diameter electrical cable she called "bologna."
In 1971, she became a driller. She held that position until mining operations ceased in December 1979, at which time she was making $12 per hour.
Tippetts said she earned $3,000 at Circle K during the first nine months of 1970. She made more than that the final three months of that year at Duval as a laborer.
"The men didn't like a woman taking a man's job," she said. "Three or four women (laborers) before me quit due to harassment. But I held my ground and drilled holes alongside the others.
"Most of them learned within six months I could work as hard as any man, and I began getting some respect."
Tippetts, who was born in Park City, Utah, took lapidary classes at night for three years at Mohave Community College. In May 1978, she picked up a silversmith degree that would prove valuable after the mine closed.
In 1980, she opened Dona's Jewelry at 2143 Northern Ave. She still has the business, although it has been up for sale the past 14 months.
It's time to retire, Tippetts said.
Tippetts participates in about 18 jewelry shows per year. The farthest one at which she has displayed her merchandise was in Carson City, Nev. She plans to participate over Mother's Day weekend in the Festival of the Arts at Metcalfe Park in Downtown Kingman.
Tippetts also enjoys walking in the morning and playing the piano.
Neighbors is a feature that appears Mondays in the Kingman Daily Miner. If you have an interesting story you'd like to share contact Terry Organ at 753-6397 ext. 225.