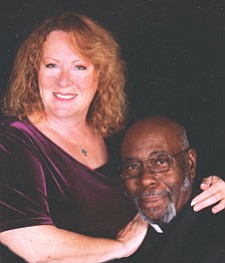 Originally Published: April 23, 2008 9:55 p.m.
I never thought I'd do it again, but I did. On Jan. 28, I jumped the broom, tied the knot, got hitched.
As you will see if you take a look at Page 3, I finally succumbed to the charms and winsome ways of a Golden Valley gentleman and agreed to tie the marital knot.
It used to go without saying that such a move meant a name change for the lady involved. Such isn't always the case nowadays, but I'm old-fashioned in many ways, so you will see that my surname now is Peairs.
Of course, even for us older newlyweds, marriage means at least some degree of blending of families.
While none of our offspring or siblings live with us or even nearby, we've each had the chance to spend time with the other's relatives. I'm happy to report that the members of my family who have met my new husband happen to think he's something special.
And I'm equally delighted to say that I find his relatives kind, caring and fun to be around, and I believe they feel the same about me.
None of those things do you ever take for granted. When such is the case, you're wise to consider it a real blessing!
As you look through the paper, you'll see some other changes have taken place recently, as well. First, you'll notice there are some new design elements, giving the eye some interesting things to feast on.
And, we have launched the new Golden Valley Gazette online version, accessible to anyone with Internet. Just type either goldenvalleygazette.com or GVGnews.com into the search engine. There, you'll find an attractive, informative, interactive version of the Gazette.
There are links that make it easy for readers to submit comments and even photos and story ideas.
We hope you will all take a look at it on a regular basis, and let us know what you think.