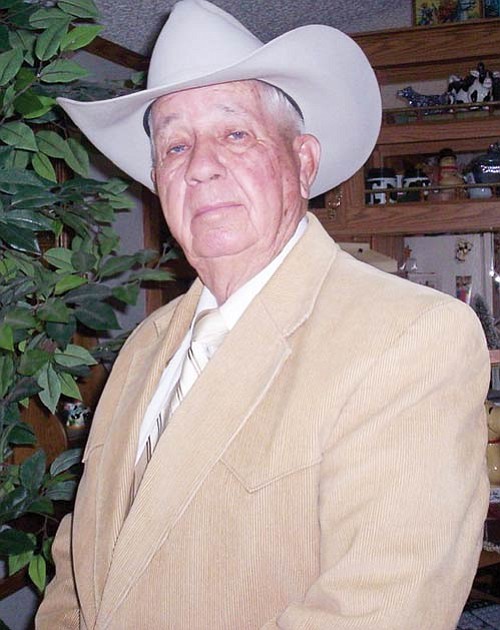 Originally Published: April 24, 2008 6 a.m.
KINGMAN - Marshall Yarbrough no longer saddles up to get around.
But he still wears his cowboy hat when outdoors, and he drives along Stockton Hill Road, when necessary.
"I punched cows in the Hualapais for years and did ranch work in southern Arizona and Nevada for 30 years," he said. "There were some long days, but I got to ride a lot of good horses and work cattle."
Yarbrough was born March 5, 1928, at the old Mohave General Hospital on Beale Street. He is the third son of Dallas S. Yarbrough and Myrtle Fancher.
Dallas Yarbrough was killed at age 57 in a truck accident and the type of work he did much of his life led him to believe he would not live to age 80, Marshall Yarbrough said.
"My dad's folks came to Arizona in 1910 from Arkansas," he said. "They settled and began ranching in Chandler.
"My mother came from a Mohave County ranching family that came from California and settled in 1890 on the Big Sandy near Wikieup. Mom was born just north of there into a pioneering family."
Yarbrough's parents moved around. He attended first grade at Kingman Grammar School and his freshman year of high school in downtown Kingman. He graduated from high school in Snowflake.
Yarbrough spent much of his youth in the Show Low area. He said his father bought a ranch in 1939 and did some farming on the three to four section property for the next 30 years.
In 1989, Yarbrough made his final move from northwest Nevada, where he worked on another ranch, to Kingman. He also married his wife, Patti, that year.
He has a son, four daughters, 15 grandchildren and 12 great-grandchildren. More than 30 family members are expected in Kingman this weekend for a family gathering and belated birthday tribute to Yarbrough to be held at 11 a.m. Saturday at Metcalfe Park.
Yarbrough has noticed many changes in the community since 1989. They include opening of the Rancho Santa Fe subdivision, Wal-Mart and several building projects that have expanded the capabilities of Kingman Regional Medical Center.
"I was a little disappointed in the rapid growth of five years ago," he said. "But it has slowed, which is OK."
Asked about his future plans, Yarbrough said, "To sit here until such time as the good Lord takes me."