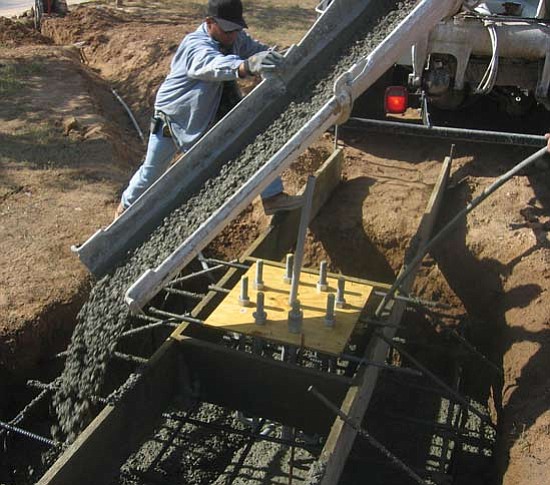 Originally Published: April 29, 2008 7 a.m.
KINGMAN - With the price of oil reaching new highs seemingly every day in the midst of America's current economic downturn, one local man is opting to sink his money into thin air - moving thin air, that is.
Within a month, Dr. John Lingenfelter will become the first Kingman resident permitted to have a wind turbine built on his property for personal power generation.
Lingenfelter's home at 1080 Riata Valley Road is where the turbine will stand, following the concrete foundation's curing process. Pure Steel Concrete, a contractor out of Fort Mohave, poured the foundation Friday morning. Following a 30-day period, Bullhead City-based contractor Sunquest Solar LLC will raise the turbine - a Skystream 3.7 model, in reference to the length of its fan blades - to its full height of 41 feet, comparable to a standard utility pole.
Once up, the turbine will generate between 30 and 85 percent of Lingenfelter's overall power needs every month. That's according to Scott Travis, the man who sold Lingenfelter his turbine.
Travis is the manager of Catchin' Wind and Sun, Mohave County's only authorized dealer of residential wind turbines, also operating out of Bullhead City. For him, a man whose life passion has been providing options for renewable energy, Kingman's first residential turbine means much more than just another sale.
"What I'm looking at is for people to see how unobtrusive and easy it is for us to install this without interfering in their daily lives," he said. "You can buy a wind turbine for less than you can buy a new car for now, and it'll last for 25 years before you even have to think about it."
The predicted power-generating capacity of the Skystream 3.7 is based on a rather conservative calculation - for Kingman, anyway.
According to Travis, the Skystream produces 1.9 kilowatts of power every hour at its minimum operational wind speed - 8 mph. However, it can reach a maximum capacity of 2.5 kilowatts an hour at wind speeds of 12 to 20 mph.
"The normal house uses approximately 3,000 kilowatts a month," Travis said. "The generator will produce approximately 1,000 to 1,200 kilowatts a month at eight mile per hour winds, based on an eight hour day."
Of course, the winds whipping through Kingman don't adhere to the traditional eight-hour workday, nor are they ever calm for very long, hence the potential to provide up to 85 percent of Lingenfelter's power supply. And positioned only 55 feet away from Western Avenue, the turbine is sure to draw attention - though Travis is banking on it being more positive than negative.
"I want the people to see the difference in what I do," he said. "It's sleek, it's quiet, it blends in well with the environment."
And priced at roughly $13,000 to $14,000 for the combined product and installation - every project is site-specific, after all - Travis is hoping Kingman's first residential turbine will open other residents' eyes to the possibility of owning much of their own no-hassle power supply. This first installation has already been the fastest contracting project Travis said he's ever supervised.
"One day we dug ... the next day we got inspection, third day we pour. That's incredibly fast, especially for this type of application," he said. "I believe the people, when they see and read what took place here and how fast and easy it was, business is going to boom."
Prior to Friday's pouring, Travis spent six months discussing his intentions with the Planning and Zoning Commission, the City Council and individual members of the city's Planning Department. Working in tandem with Principal Planner Rich Ruggles and Development Services Director Gary Jeppson, Travis was able to find the section of the city zoning ordinance that opened Kingman up to wind power - the Rural Residential zoning district.
Section 7.210 of the zoning ordinance, which covers the property development standards for R-R, or Rural Residential zoning, exempts barns, sheds, silos - and towers - from any height limitation, the only residential zoning district to do so. It was a perfect fit for Lingenfelter's R-R-zoned property.
Lingenfelter has long been a fixture in the city of Kingman, having practiced medicine for decades before founding the Lingenfelter Center for Alzheimer's and Behavioral Health at 1099 Sunrise Ave. in 2003. He is currently chairman of the board for the Center. His motivation for purchasing the turbine, he said, was simple enough.
"When I go outside and I feel the wind blowing, I think, 'gee, I'd like this to light up my house,'" he said. "I just feel like we should make whatever effort we can to cut down the energy costs and make use of our resources. Whether it's solar or wind, it's something we should try to do."
For more information on turbines and other products offered by Catchin' Wind and Sun, call (928) 300-1585.